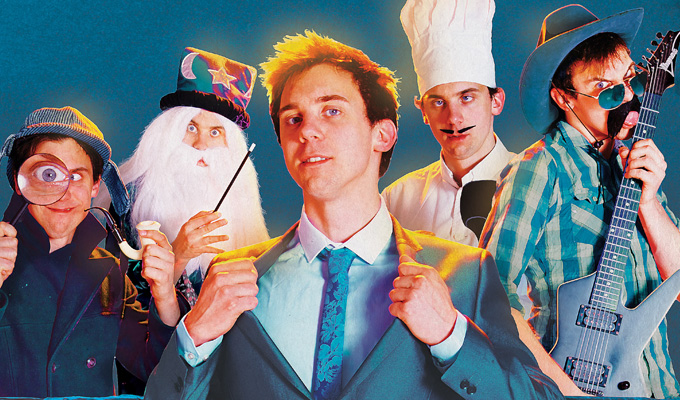 Mat Ewins: Day Job
Mat Ewins' character comedy showcase is a car crash of a show. But a deliberate one.
Such an idea is a longstanding Fringe staple, but Ewins blurs the lines more than possibly anyone else does, performing it without much of a knowing wink to the audience. Or, more crucially, without any rigid framework against which his chaos can be contrasted.
For example, in Funz And Gamez – where Ewins moonlights as The Num-Bear – there's a supposedly straightforward kids' gameshow at the heart, ready to be ruined, as well as clear jokes that acknowledge the subversion. But in Day Job, Ewins takes a crappy oddball character show – nominally based around a talent show held in a pie factory – and makes it even more crappy.
Did he really mean to put that police jumper on backwards? Don't know. Is the show significantly under-running? Yes. Did a Fringe review website really think that even the most clearly scripted 'mistake' was genuine? Yes (and possibly believed the pie-factory line too). Has he really forgotten to upgrade the software running his sound cues to the pro version? Can't say…
The characters he invokes are odd in the first place. The bike-gang member who loves yelling 'Grapes!', trying to coin a peculiar catchphrase is a silly delight, while he has to improvise his planned double act when his performing partner, the abhorrent racist Colin Jizzbagel, fails to make it to the show.
Day Job is, of course, far more considered than a naive viewer might believe, given its loose construct, incorporating plenty of Knockabout audience interaction. There are a few sharp lines, too, but this is not the point – the desperate, slapstick-like havoc caused by a star-hungry performer is.
Eventually, some of the construction behind that mayhem is exposed, revealing Ewins to be a smarter operator than he first projected – although many seemed to have already written him off as a shambles by then.
Review date: 19 Aug 2015
Reviewed by: Steve Bennett
Reviewed at: Just The Tonic at The Caves
What do you think?