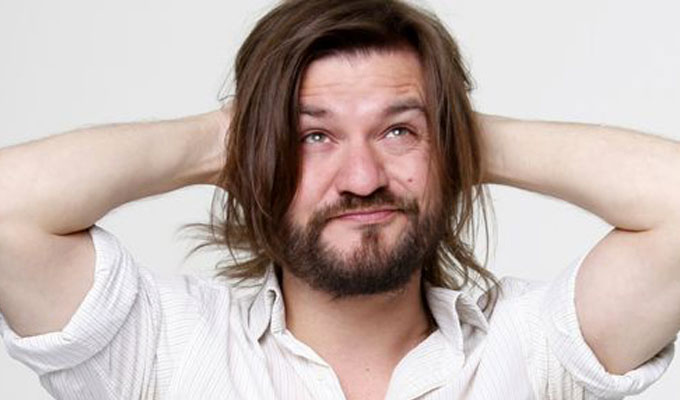 Matt Reed: Stalked
Note: This review is from 2015
The word 'stalker' is bandied about a bit too casually in comedy, as it is in life, usually to mean some unwarranted attention.
But that doesn't hope to sum up the four-year-ordeal Sunderland comedian Matt Reed suffered at the hands of a woman with severe psychological problem, that left him broke and broken.
Counterintuitively, the story is driven by his obsession, too, after becoming infatuated with a woman who contacted him on Facebook. They started to exchange messages to the extent that he was convinced this was the love of his life.
And that's all I can tell you about this incredible story. Partly because it would prove a spoiler for those yet to hear it, and partly because I stopped taking notes in the show as the twists and turns proved so engrossing…
This is by no means a funny yarn, and even when told by a stand-up of 15 years' experience is low on laughs. But it more than compensates in gasps of incredulity and genuine WTF? moments.Despite his many years in the business, this is Reed's first Edinburgh show, because it's the first time he's had a story to tell; and for content, it'll be hard to top.
Reed's an affable guy and sincere storyteller, and you feel his pain – and oftentimes his stupidity, too, as a string of bad decisions kept him embroiled in this agony for much longer than a rational person would have been. He's as honest about that as he is about the rest of the story… it's not a one-sided 'bitch be cray-cray' yarn at all. 'Don't worry, I regret a lot of this,' he tells us pretty much straight off the bat.
There are a couple of places where the story might do with a nudge towards better clarification, but Reed does well at condensing the extended madness into an hour, giving a flavour of what he went through, without getting bogged down in the tos-and-fros. And as the net closes on his tormenter, the action gets properly dramatic, building to a conclusion a thriller writer would be proud of.
Review date: 19 Aug 2015
Reviewed by: Steve Bennett
Reviewed at: Just the Tonic at The Mash House
Recent Reviews
What do you think?