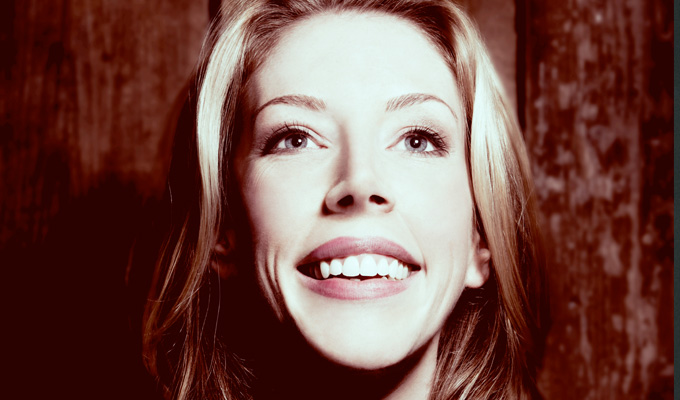 Katherine Ryan: Kathbum
Note: This review is from 2015
With most comedians, more personal the subject matter, the stronger the jokes. Yet for Katherine Ryan, the opposite applies. Her vicious acid-queen putdowns of celebrities zing with a vitriolic passion that closer-to-home stories of her taste for inappropriate men, the shithole of a town she came from and single parenthood can't hope to match.
Perhaps we don't really want to see the real her; the ice-cold bitch is what sells. She even makes sport of her thick skin, offering a twist on the common stand-up trope of reading out the vicious online abuse she received – in her case, after upsetting the entire Philippines on Mock The Week. Given what she doles out, Ryan can barely complain about what's directed back at her, though this section is something of a lull in an otherwise impressive show.
Early doors she raises a comparison with Joan Rivers, thanks to an outrageously bad-taste one-liner that the late New Yorker would surely have appreciated. These celebrity swipes are brutal but brilliant, as she skewers the likes of Peter Andre, Mo Farah, Katie Price and Cheryl Fernandez-Versini, the 'nation's sweetheart' who you'll never quite see in the some way again after hearing Ryan's grotesque impersonation. Drum-tight and relentless, these jibes tend not to be just gratuitous; significant points back her jibes against the former Mrs Cole, Bill Cosby (obvs) and the Twitter spat between Taylor Swift and Nicki Minaj.
This section seamlessly segues into being about Ryan herself, as she takes us back to the grim dead-end Canadian town where she grew up in the shadow of a petrochemical works. She definitely didn\'t fit in – hence her permanent flight to London – but her family, and especially her sister's friends, seem to thrive in the normality. Again, there's more to this than first meets the ear, as the stories have a lot to say about conformity.
Life in the UK hasn't always been a bed of roses for her; and there are some nice cockhead-shaming stories of blokes she's been out with, even if a couple – about a peculiarly specific and intimate compliment; and about the hangups of a slightly younger guy – are milked a bit too long. Still, they deserve it.
Family stories also include Ryan's six-year-old daughter Violet, who seems destined to be a comic, too, given that a) she's already inherited mum's withering wit, and b) been subject to a childhood trauma, via a dead rabbit and Ryan's wimpy parenting.
In the end, many of Ryan's strands are tied together neatly in a practice maid-of-honour speech she needs to make at her sister's wedding next month. If it goes ahead as per this draft, she's unlikely ever to be invited back to town.
Review date: 18 Aug 2015
Reviewed by: Steve Bennett
Reviewed at: Stand 3 and 4
Recent Reviews
What do you think?