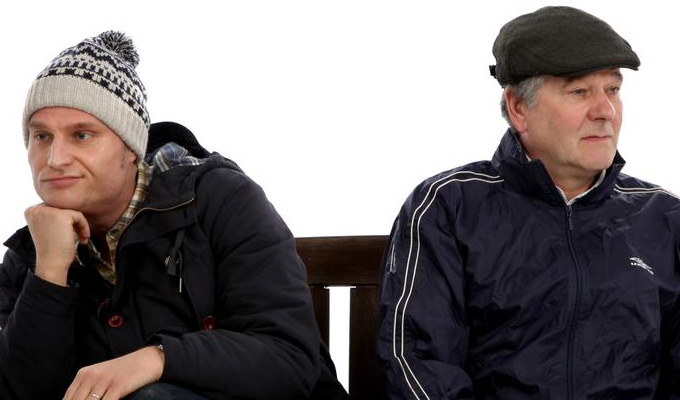 Scott Bennett: About A Roy
Note: This review is from 2015
Scott Bennett has made a very enjoyable stand-up show, any of the killer routines from which could be used for a club set.
Roy, in the unforgivable punning title, is of course his dad and is a superb character creation worthy of Peter Tinniswood's Uncle Mort or a rather scatological Alan Bennett character sketch.
Scott Bennett's stock-in-trade is the legendary meanness of the Yorkshire man who is perpetually in thrall to his domineeringly critical wife, a pattern seemingly repeated in Bennett Jr's own marriage.
It's a comic tradition that harks back to Donald Gill postcards, or Les Dawson's Lancashire loom ladies and may not be madly fashionable, but in these good hands, it's pleasing enough. The 'nagging wife' may be a bit of a ho-hum stereotype, but it always comes in reaction to the hopeless, hapless dope of a husband. This is not a documentary, after all, it's jokes.
Bennett is a strong performer, having a commanding voice that is somehow older and gruffer than his years, great at conveying old man's panicky irritation or the quietly vicious passive-aggression of his mother's emotional blackmail.
He conjures up vivid images of working class childhood holidays, family traditions, embarrassing penny-pinching scams. There seems to be an extraordinary amount of poo running through many of the stories, which is a bit depressing, but for me the real laughs came not from the content of the anecdotes but the fabulous turns of phrase and pungent expressions of the protagonists that he embodies.
To move up to the next league of comedy performers he should lose the poo, broaden the terms of reference form the obvious (all-you-can-eat buffets have been done to death) but continue with the well defined characters. Unlike Yorkshire beer, this Yorkshire comedy travels well.
Review date: 15 Aug 2015
Reviewed by: Julia Chamberlain
Reviewed at: Just the Tonic at The Mash House
Recent Reviews
What do you think?