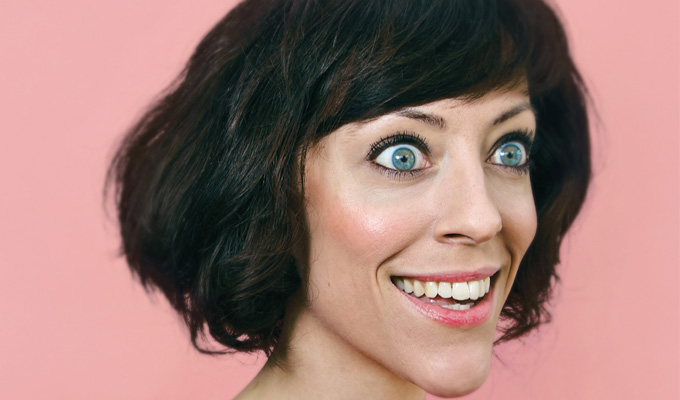 Some Like It Thea-Skot
Note: This review is from 2015
I think the best way to describe Alison Thea-Skot's new show is: an absolute hoot. This full-throttle hour of character comedy is the sort that blows away cobwebs and implants a few images that won't be forgotten in a hurry.
The dreaded audience participation is as much a part of it, and I tend to have the suspicion that relying on that is often a crutch for performers, but Thea-Skot gets more funny moments out of it than most, partly due to a knack for improv and partly due to pushing her bloody luck with a big grin on her face.
Her persuasive powers led one particular chap down alleys he probably didn't expect to take when he walked into the room – he gets the chance to take revenge, though, and end up the hero.
Arguably the weakest character was the first up – Celine Dion with a gambling habit – but after that it picked up with the leader of a Heartbreak Club giving tips to the single woman (putting Phil Collins' Against All Odds to excellent use), Supergirl before she goes on maternity leave, and the noir-ish story of a foreign exchange trip that went wrong.
Particularly in such a small room, Thea-Skot is a force of nature, her energy reminding me of Phil Nichol in how he grabs a room and gets it on his side. On top of that, she is clearly having so much fun orchestrating all the lunacy that the crowd can't help but be swept along.
There is a lot in the show about single life, which becomes a little predictable, but it always comes out the other end as a funny stunt or sketch, like her Blind Date recreation which again shows her talent for crowd work.
There are some nice moments of absurdity, especially with 20s/30s star Bibi Badalicious, whose mouth doesn't really work on account of having a jaw of coal, but isn't about to give up drinking wine just because of that.
The finale is fittingly ridiculous, and people leave looking like they've just seen a feelgood hit.
Review date: 15 Aug 2015
Reviewed by: Paul Fleckney
Reviewed at: PBH Free Fringe @ Bar Bados
Recent Reviews
What do you think?