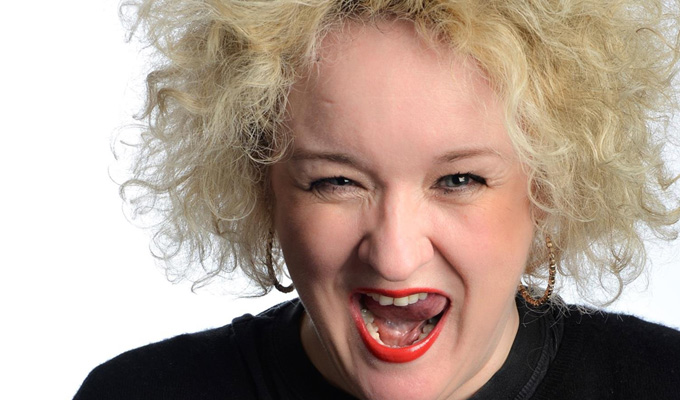 Abi Roberts: Downtown Abi
Abi Roberts is smashing it at the Voodoo Rooms. She's got an hour of bawdy light entertainment that's packing the room and probably earning her a pretty penny in the contributions bucket at the end. A good chunk of it is looking back to her days as an irresponsible teenager, and how today she's an irresponsible adult, forgetting to give her mum grandchildren, and having outrageous sexual encounters.
She's a piss-taker, taking aim at indulgent jazz soloists, her Hyacinth Bucket-like mother, and her posh ex from Hampstead. But most of all she revels in telling tales of her disgraceful behaviour, and doesn't give a flying one what anyone thinks. There's a lot of talk about cock, put it that way.
It really doesn't do it for me, though. Some of the premises are so dated they're virtually museum pieces. The audience banter at the top extends as far as suggesting the Scottish hate the English, and she baas at someone from Wales. She refers to her boobs as the Mitchell brothers, fully 25 years after Del Boy made the same gag in Only Fools and Horses but with Right Said Fred. Nipple-tweaking is like tuning a radio, Masterchef voiceovers are a bit like porn, sometimes the wrong song comes on during sex. That sort of thing. I definitely felt like the grumpy sod at the back while everyone else howled.
Roberts is certainly a natural performer, and knows how to put on a full-blooded show, it's just the show in question is pretty generic. Why are we talking about how ridiculous Titanic (the film) is? And Celine Dion? They are ridiculous, I agree, but hasn't this been comprehensively covered by now?
The final big story, involving a one-night stand and a massive poo, reminds me of the sort of tedious drunken anecdotes that students come out with. The outrageous adult is the persona Roberts is selling to us, of course, it could just be done in a more original way.
Review date: 15 Aug 2015
Reviewed by: Paul Fleckney
Reviewed at: PBH's Free Fringe @ Voodoo Rooms
Recent Reviews
What do you think?