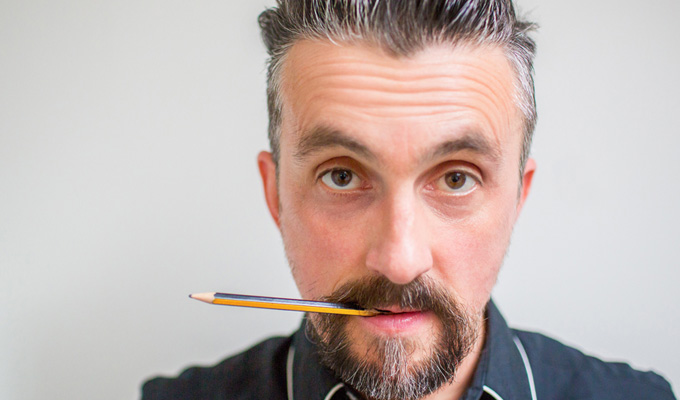 Markus Birdman: Grimm Realities
Note: This review is from 2015
Combining illustrations with stand-up comedy may not sound entirely original (Dylan Moran, Tim Minchin's Storm etc) but Markus Birdman gives his audience an entertaining and often thought-provoking glimpse at fairy tales and their hidden meanings.
He makes no apology for launching straight into the painful break-up from his partner as it sets the scene for something even more terrifying: buying his daughter her first bra, aged ten. What follows is a cleverly conceived show about growing up and dealing with impending adulthood, told through his own versions of Cinderella and Little Red Riding Hood.
The books are split into four parts each and all are beautifully illustrated in neon colours. The Grimm creations we all know and love are projected on to a screen as Birdman reads aloud, a jazz song playing in the background. It adds perfectly to the comic's laid-back delivery and helps to break up the more morose sections of his show, which includes lost loves and his rebellious upbringing in a religious household.
When Birdman asks questions of his audience he genuinely wants to hear their answers. He isn't a comedian who gets satisfaction from ridicule; he is curious about other parents' experiences of bringing up their kids. He somehow manages to involve the childless members of the audience even when discussing personal experiences such as children's hideous fashion choices; the embarrassment of broaching the subject of sex education; and the nightmare of being a hypocrite to your own child.
It makes a refreshing change to have a comedian chat about everyday situations without needing to make a joke at the end of every sentence. Birdman rewards his audience for listening by ending a five minute speech with a juicy, and often unforeseen, punchline. He is a natural storyteller, setting you up and delivering without disappointment, like Dave Allen, except Birdman swaps cigarettes for crayons.
It would've been easy for him to just illustrate his experiences with his daughter, but using fairy tales works so much better as they are something everyone is familiar with – an ingenious decision on Birdman's part. If he were to consider publishing his books there would be several takers, judging by the noises of appreciation during his reading.
Review date: 14 Aug 2015
Reviewed by: Helen Ackrill
Reviewed at: PBH Free Fringe @ Canons' Gait
Recent Reviews
What do you think?