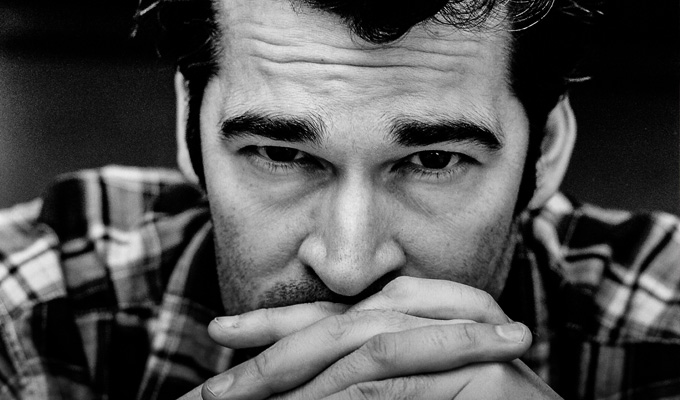 Adam Riches is Coach Coach
It's certainly an ambitious move by Adam Riches to move from his usual sketch-based comedy, heavy on audience participation, into a full-scale narrative epic that spoofs Hollywood sports movies. And an even bolder one to allow any of his domineering alter-egos to share the limelight, let alone with a full supporting cast.
The gamble is a valuable creative stretch after he so conclusively mastered his old format, but only partly pays off, since some of the things that make Riches so compelling are diluted. Punters are largely left alone, his capacity for ad-libbing diminished, and he must stick to just the one character, the intense high school coach Eric Coach – a man with a troubled past and a chewing gum addiction.
On the plus side, the plot culminates in a big, unpredictable climax, a real-life crunch match between bitter rivals The Queen Dome Centaurs and The Courtyard Lizards, that generates spectacle and excitement. After all, if it can be done with The Wrestling why not Volfsball, a cousin of baseball invented independently of this show by comic Marek Larwood. And to accommodate it, the Pleasance apparently agreed to literally raise the Roof of Queen Dome, moving the lighting rig higher to avoid expensive accidents.
Coach Coach must knock into goddam shape his ragtag team of underdogs, including poor Memphis Alabaster (Nick Hall) with his two left hands, and lycanthropic new signing 'Willy' T. Wolf (David Elms, who brings a surprising tenderness to a romantic sub-plot). If his team can take home the Yakult Cup, surely he will have conquered his demons. Go Centaurs!
As you can tell, the parody certainly has its quirks, though the need to accommodate plot, which is by definition kinda formulaic, eats into the laugh count, especially as we're just dying to get the game started and wave the pennants we were handed on the way in. But there's a good flow of offbeat gags – a date at an arena comedy gig proving an especially nice touch – and engagingly cartoony performances.
Notable mentions go to Richard Gadd as the intense, intimidating school principal, Massive Dad's Liz Smith as the coach's daughter with an attitude (her sketch partner Stevie Martin player her mum), and Ben Target as unhinged Lizards ace The Wrist. But for all this talent, the energy never fizzes more than when Riches takes things off-script to acknowledge what's going on in the room.
If only the format allowed him to do this a bit more often, and play to his untouchable strengths.
Review date: 13 Aug 2015
Reviewed by: Steve Bennett
Reviewed at: Pleasance Dome
Recent Reviews
What do you think?