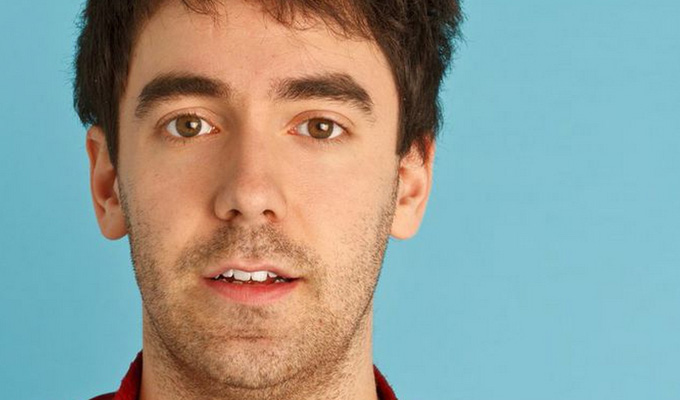 Adam Hess: Salmon
Note: This review is from 2015
'The boy who never grew up' makes for a nice story… though in real life, you would end up with someone incredibly creepy – or incredibly odd. The latter is where Adam Hess comes in.
He is a nervous, frisky, tricksy sort of comedian, babbling out stories 19 to the dozen like a child trying to tell mum of all the thrilling things that happened at school that day. And offstage he gets so carried away in the moment – whether it's trying to impress a pretty girl or prank a mate – that he often ends up in embarrassing pratfalls.
Yet he wouldn't have it any other way.
The theme of holding on to an innocent, playful curiosity of youth – before concerns about being thought cool become a constraining force – is always somewhere under the surface, with a music box he brings on stage acting as a talisman for the idea. Though it's never explained, the title Salmon evokes the idea of swimming against the prevailing current, back to the place of childhood.
Hess's debut is a litany of humiliations from awkward child to awkward adolescent to awkward man, as two-and-a-half shows' worth of self-deprecating anecdotes are compressed into one. He has a delivery so excitable he seems in danger of giving himself a nosebleed… a genuine concern since that was his body's response to pretty much every childhood stress; an hilarious reaction in retrospect, at least.
One problem with his lively breakneck pace, however, is that it doesn't give much space for laughs. You don't get a chance to physically express their appreciation of the many funny lines and situations, as he's scampered on to the next one before you've had a chance to react. But you do appreciate them.
There are reams of proper jokes amid the bubbly anecdotes, including some of the 'greatest hits' from his quirkily funny Twitter feed, which he gets an audience volunteer to read out, as he performs an odd tribal dance around him (don't ask). Across all his punchlines, Hess is like a supercharged Mitch Hedberg, seeing the world from a very peculiar angle, then expressing it in a condensed capsule of wit.
Fast, funny, and vibrant, this is an assured debut from a man who deserves all the 'one-to-watch' tips he attracts.
Review date: 11 Aug 2015
Reviewed by: Steve Bennett
Reviewed at: Heroes @ The Hive
Recent Reviews
What do you think?