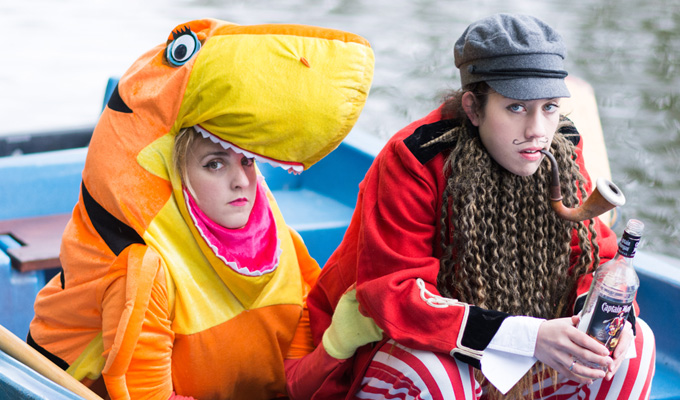 LetLuce in Sea Men (A Naval Tale)
Note: This review is from 2015
Well here's a sure-fire way to brighten up your afternoon. LetLuce are Letty Butler and Lucy Pearman, and they have a big, daft hour of comedy that could make the most grizzled seaman crack a smile.
What they have is a tall tale set at sea, of a hardy captain and a naive young fish who strike up an unlikely friendship – the former is in search of a potion to make him forget his troubled life, the latter in search of love. Both can find what they're looking for on River Island (the place not the shop). So off they sail.
The pair's shtick is as silly as Harry Hill and as surreal as the Mighty Boosh or Vic and Bob, and they're armed with a vast array of props and costumes that make it quite the visual feast as well. In particular, Lucy Pearman dressed up as a massive fish while she speaks like a simple Coronation Street barmaid is a small joy throughout the show.
It's such a playful show, and that I think is their biggest appeal. They muck about with the words 'shoal', 'gill' and 'tsunami' (being able to make a single word funny is a wonderful comic gift to have), and you get the feeling a lot of this show has emerged by playing around, like when they don crab hats and appear as Caribbean crabs who live on River Island (a particuarly Boosh-esque scene-let, and a very funny one at that). At one point Pearson appears with a sign, but it's broken and she's trying to get it to point in the right direction, I don't know if this was deliberate but it was a wonderfully executed bit of improv if it was.
The most absurd moment was the portrayal of the captain's mum, who ran away with the circus. Her circus 'turn', which is a small act of freakishness directed towards one person in the audience, was probably my favourite bit. It was more purely absurdist than simply pretending to be a crab with a Caribbean accent, and they could amplify that part of their act more.
For me it was a giggle throughout kind of show, rather than lots of big, raucous laughs, and I still suspect it was more style (or perhaps stunt) than substance, but then it's stayed with me – the way it looked and the way it felt. LetLuce are a real find, with natural funny bones, and they deserve for this show to be a hit.
Review date: 10 Aug 2015
Reviewed by: Paul Fleckney
Reviewed at: Just the Tonic at the Caves (Salvation Rooms)
Recent Reviews
What do you think?