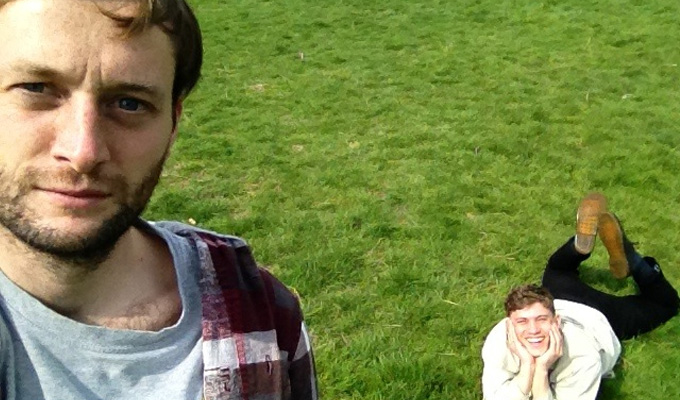 Bucket
Note: This review is from 2015
There's been a Cardinal Burns-shaped hole in the comedy world since we lost them to telly, but Bucket do a pretty good job of filling it – and not just because one of them has stubble (a precious commodity in the world of sketch). It's because Bucket comes across as such a solid double act, you can't imagine one without the other.
Ed Eales-White has had other comedy partners, having been one-third of Clever Peter. But in Jon Pointing he's really found the shoe that fits. This is despite the fact they're quite The Odd Couple – one looks like a boyband member from the 1990s, the other like a footballer from the 1980s. They really do click though as performers, though, despite being only recently formed. The only sign of their newness is that their debut show slightly runs out of steam with material.
By that point though, they've set the bar high. The opener, parodying the noble gravitas of Middle Ages pre-war scenes, is wonderfully daft. I also enjoyed their amateurish stage combat experts, who are a fleshed-out update of The Fast Show's 'Let's off road' skit. They appear to be recording some sort of YouTube video in the most cack-handed way possible, and the trick they pull off with their clunky, mis-timed dialogue (I loved 'not this afternoon, tough guy') is the old Les Dawson one of deliberately playing the piano very badly.
Two sketches could easily have come straight from the Cardinal Burns songbook – first, a pair of Yorkshire coppers at a murder scene who fly off into fantasies about the drama series they could make of it. The other is two working-class nationalists with St George's flags on their faces, shouting slogans.
Between sketches they come out of character with Jon as the frivolous, puppyish youth and Ed as the earnest, jaded elder. Their ventures into improv and physical theatre, with varying degrees of enthusiasm, are some of the funniest parts of the show, and feel loose and light enough to give the show an almost improvised feel. The shift in power between the two of the them as the show goes on also adds a bit of texture.
I really want to sign off with 'Get this show on your bucket list!' but it's not good enough for that. It is, however, a delightful, very funny show.
Review date: 9 Aug 2015
Reviewed by: Paul Fleckney
Reviewed at: Pleasance Courtyard
Recent Reviews
What do you think?