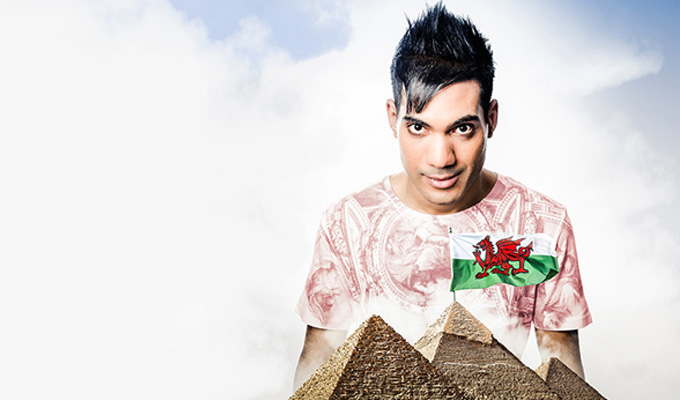 Omar Hamdi – In The Valley Of The Kings
He's from Middle Eastern stock, but Omar Hamdi might remind you of a certain other comedian. With his boy-band hair, jittery nervous energy, overdramatic stereotypes and huge issues with his emotionally distant father, he could be the Egyptian tribute act Russ-el-Kane.
It's a style that gives him the performance chops to invigorate an audience and easily deal with the rough-and-tumble of a late-night show – he'd surely make for a strong compere since he displays deft audience wrangling here. But unfortunately his writing is weak, and over an hour that becomes increasingly exposed, especially once the easy gags about his twin heritage as an Egyptian-Welshman are despatched.
He seems to have two modes. The first is the one full of vim, lots of exaggerated caricatures, often taking on the personalities he assumes of audience members, from 'gap yah' privileged hipsters to the posh old-school Establishment of long-married Paul. There's a lot of middle-class-baiting here.
The second is to espouse social theories that he supposes are grand - 'I've intellectualised this a bit' he even says at one point – but they are generally a concoction of half-baked ideas combining fashionable liberal memes and statements of too-familiar facts. It's a Russell Brand trap of substituting showmanship for argument.
At one point, in an attempt to square science and spirituality, Hamdi asserts the conservation of energy basically means reincarnation – a statement that will have rationalists bristling. Elsewhere he suggests, not unreasonably, that we should make half the bankers and chief executives women, scoring some easy points for being a great feminist. But his follow-on assumption that this will mean an end to boom-bust economics (why?) and more 'cuddles' is trite in the extreme.
The problem is both his modes mask an absence of jokes…. as if a poncy middle-class accent is enough to cover the hack observation that ADHD is a posh name for a naughty kid, or as if cod-philosophising makes the show weighty. In fact a skilful comedian would conceal the message behind stories and gags: by making his points so explicit, Hamdi becomes a partially-informed lecturer with an occasional joke. He deploys callbacks quite liberally, too, but not with much subtly – another substitute for a real punchline.
His thrust in the show is about how the emotional suppression of male emotions – triggered in part by an uncertain role in a changing society – leads to depression including his own. Although in a festival where mental health is set to become a recurring theme again he's too dry and clunky in telling us what he thinks rather than letting us figure it out for ourselves.
Hamdi – who has regularly supported Kane – delivers with vigour, but he's neither funny nor subtle enough to make an impact.
Review date: 7 Aug 2015
Reviewed by: Steve Bennett
Reviewed at: Assembly George Square
Recent Reviews
What do you think?