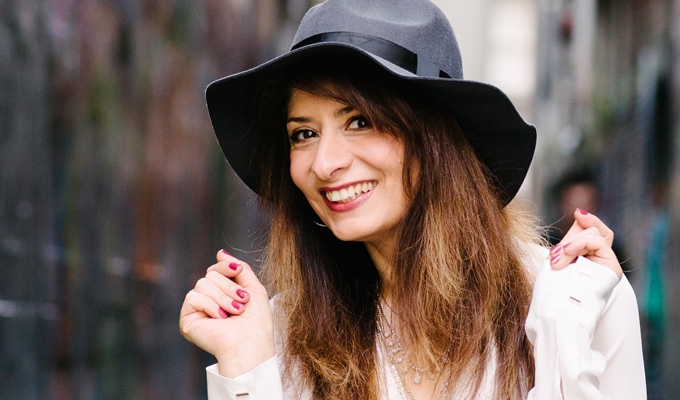 Shappi Khorsandi at Latitude
Note: This review is from 2015
One peculiarity of playing a tent in the middle of the day is that the comedian can see the entire audience. Many of them mention it, but not quite to the same end as Shappi Khorsandi, who stopped herself short mid-routine when scanning the crowd she spotted, right at the back of the marquee, her own seven-year-old son, Cassius.
He'd apparently promised to go to ground in the children's area so Mummy can tell her naughty stories - but he was caught out. His punishment? To come up on stage and tell a joke so he could see how hard Mum's job was.
The youngster made a good job of it, too, with not a trace of nerves in front of such a huge audience. Since Shappi's father, Hadi was a noted satirist in Iran, it looks like the humour dynasty will continue. And now Cassius is probably the youngest person to have got a Chortle review, with apologies to all those hard-working open spots still waiting for theirs…
Family is big part of Khorsdandi's routine, including her nutty parent, scary cousins, and her own two children, especially how they impacted on her life. She's a single mum, not quite how she saw things working out, and her rather chaotic way of balancing motherhood and a sex life - whether via dating or online – provide plenty of laughs from its honesty and its gossipy tone, even if she is the object of her own gossip. And if she was worried about whether some of this stuff was appropriate for Sunday afternoon, especially with her son in the room, that only added to the naughty feel.
She's strong, too, on the differences between men and women – don't groan, comedy snobs – as her theory about the genders' responses to rejection, and her comments about stag nights compared to hen dos are as funny and keenly observed as her material on how her race always seems to be an issue. A strong penultimate set for the comedy arena .
Review date: 20 Jul 2015
Reviewed by: Steve Bennett
Reviewed at: Latitude
Recent Reviews
What do you think?