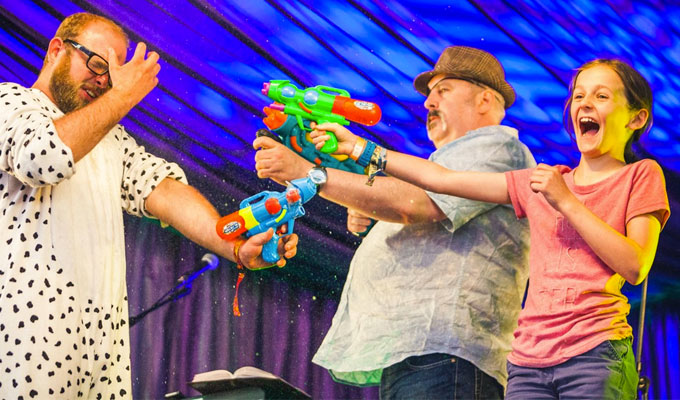 Latitude Extra
Note: This review is from 2015
Matt Forde
It must be the worst time to be a political comedian. Not because the Tory government are short on policies that need mocking, but that just over two months after an election, we don't yet know all the new characters, while all those gags written amid the fervour of the campaign now feel dated.
That applies to Matt Forde opening with his Ed Miliband material. But it'd be a shame not to use it, as he does a perfect impression of all the ex Labour leader's tics and quirks, amusingly described for context. When he does his Andy Burnham, there's a lot less recognition in the room.
Few high-profile figures are immune, and while, for example, he finds it hard to find entirely new ground on Nigel Farage, he gets his mannerisms and bluster down to a T. More universally, his descriptions of politicians in a pickle is as expertly observed as you might expect from such a Westminster wonk.
It's a mainstream take on political comedy - but there are still surprisingly few stand-ups operating in this space, so Forde can make it his own. Nor is he above controversy… he has some praise for a Tory, William Hague. But not a boo was heard from the liberal lefties of Latitude, so authoritative does Forde seem.
Pappy's
Pappy's own the late-night slot in the Literary Arena. This frisky three-man sketch troupe are here every year, and have unrivalled knowledge of the festival, so who better to stage a tongue-in cheek tribute to Latitude's ten years.
Extravagantly stupid scenes such as a giant Florence (of …And The Machine) fame rub shoulders with some of their classic ridiculous sketches. They all play it big and dumb, even Matthew Cosby, the nominal sensible one – which means the daftest of the trio, Tom Parry, must overact the fool even more. The commitment to the cause of all three (Ben Clark being the third) is hugely infectious.
It's a wonderful knockabout stuff which their BBC Three series Badults could never properly reflect – but event if their live performances aren't as frequent as they used to be, they always offer a rambunctious feast of nonsense.
Funz And Gamez
Taking of shows TV couldn't properly capture….
After the Comedy Feeds iPlayer, it's great to see this spoof kids' gameshow back on the stage. Offering sport for the kids and in-jokes for the adults, the tone is brutally naughty as ringmaster Phil Ellis cheats and bullies his way to getting one over his pint-sized competitors. It's all very wrong, which of course makes it so funny, when combined with the anarchy of the performance and naked desperation of the performers.
While Ellis – a post-divorce emotional wreck barely holding himself together – probably shouldn't be working with kids, 'Uncle' Mick Ferry shouldn't be anywhere near them. Keyboard-playing dog Bonzo (Will Duggan) and Jim Elf (James Meehan) are simply cynical, and occasionally pull Ellis back from the brink.
Their chaotic performance teetered between being enjoyably loose and crashing down completely (it does, a couple of times), while the sheer number of youngsters who rush the stage to take part makes for an intimidating sight.
Nish Kumar
Latitude is probably the comedians' favourite outdoor festival, thanks to its attentive audiences. But competing the comedy tent is still a thankless task, involving speaking while hundreds of people leave and enter the tent, paying no heed. So kudos to all the MCs: Zoe Lyons, Carl Donnelly, Jarlath Regan – and specially to Nish Kumar. He maintained a rare energy and a mischievous sense of humour throughout his day-long stint on Saturday as well as getting the crowd quickly refocused once the mass migration was over. It's a tough task, but he was more than equal to it.
Lou Sanders
I didn't see any of her set, but popped my head into the Cabaret tent at around 1am on Friday night/Saturday morning to witness her yelling at a silent audience: 'I'm trying my best you cunts.' So Latitude isn't always a olite and respectful environment between performers and audiences...
Review date: 20 Jul 2015
Reviewed by: Steve Bennett
Recent Reviews
What do you think?