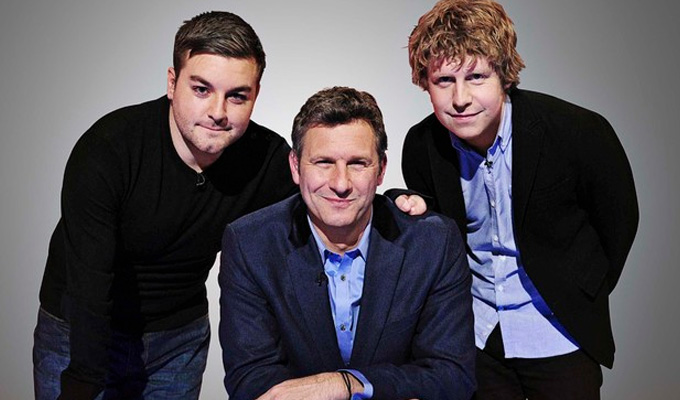 The Last Leg at Latitude
Note: This review is from 2015
Latitude has staged live versions of TV shows before – a slightly chaotic Never Mind The Buzzcocks from 2011 springs to mind – but this year it's the time of the Last Leg trio to take Sunday's opening session in the comedy arena.
And it's a lively, entertaining way to kick-start the day, Adam Hills, Josh Widdicombe and Alex Brooker proving unfeasibly quick-witted for 11am at a festival.
Mind you Brooker, on his first visit to Henham Park, did get a full 12 hours sleep after passing out at 7.30pm last night, as his colleagues revelled in disclosing. That and he woke up with a tattoo (hopefully temporary) which he had no memory of getting. As with any panel show, the interplay between its regulars is paramount, and here the affectionately mocking matey banter, honed after six Channel 4 series, is effortless, with nothing, not even Hills or Brooker's disabilities, off limits.
Of course this pair have fun with their differences, and the hour culminated with a raucous race between their artificial legs, crowd-surfing their way around the tent.
Not that it was the only memorable set piece of the show: guest Romesh Ranganathan's freestyle rap showcased a little-vaunted talent, prompting Sara Pascoe to wonder why he was bothering with comedy when he has a genuine gift. And Brooker's gloriously less cool response proved the perfect punchline.
His ignorance of Latitude's hip musicians inspired another excellent section, when quizzed over whether unlikely named bands were real or made up. King Gizzard & The Lizard Wizard, anyone?
Poor sign-language interpreter Caroline had to keep up with all this; and whenever there's a signer at a comedy gig there will be comedians keen to challenge them. 'Clitoris', 'peado' and Ranganathan's dodgy impression of his Sri Lankan mother produced some especially hilarious results.
Answers to audience-asked 'Is it OK…?' questions of course provided the backbone of the show, provoking lots of sharp ad-libbing – particularly from an on-form Widdicombe – as well as some troubling insights to the way some people exist at festivals.
What a cracking start to the day.
Review date: 19 Jul 2015
Reviewed by:
Reviewed at: Latitude
Recent Reviews
What do you think?