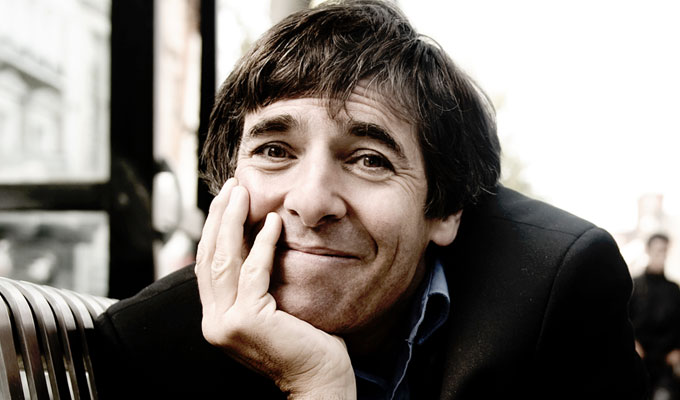 Mark Steel at Latitude
Note: This review is from 2015
Is it too late to add another name to the Labour leadership ballot? After an incisive Literary Arena session in which Andrew Marr outlined the scale of the problem facing the party, out burst Mark Steel with more passion and vision than the entire Opposition front bench combined.
'I wasn't exactly happy with the results of the election,' he tells the Latitude audience with uncharacteristic understatement, before pointing out the absurdity of British political discourse which somehow blames the poor for the lack of money and migrants for the lack of hard work. It seems so obvious when he says it, which is to underestimate his skill at cutting through to the heart of an issue, as readers of his regular newspaper column will attest.
He works himself into a lather about the narrow-minded arguments of the Tories. Like a Marxist Victor Meldrew, it's the fact no one else seems to appreciate the ridiculousness of the situation that drives his comic anger.
The other strand of his set concerns his travels around the country for his '…In Town' tour and radio series, so he has plenty of tales of idiosyncratic life, from the most minuscule museum in Monmouth to the homeless guy in Finchley famed for being a local character.
This might seem slightly at odds with the political manifesto, but it's not. These are celebrations of individualism – and for Steel individualism is a small, achievable piece of rebellion against bland global corporations. Tellingly, he finds this spirit more alive in emigrant bars and record shops than in traditional British hangouts, as he reveals in a series of highly entertaining anecdotes.
Talking of evil capitalists, the closing section concerns him being plagued by calls from the ambulance-chasing parasites of the 'have you had an accident that wasn't your fault?' sector. But they chose the wrong guy to harass, given his love of a wind-up and dedication to the cause – and as with all of his set, the audience cheers Steel has he strikes a blow for the little guy.
This was not just as brilliantly funny hour, but essential listening for anyone dissatisfied with the status quo.
Review date: 18 Jul 2015
Reviewed by: Steve Bennett
Reviewed at: Latitude
Recent Reviews
What do you think?