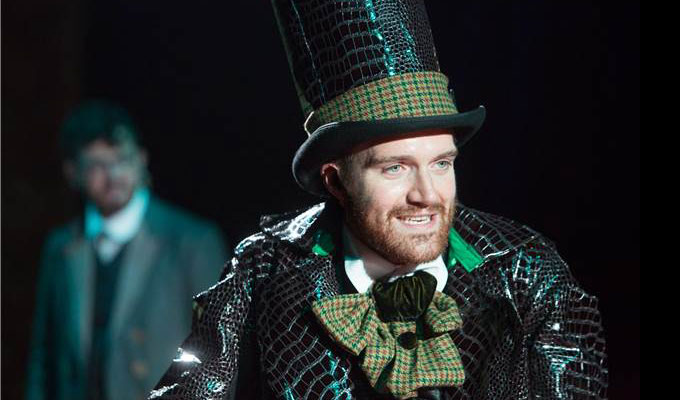 The Crocodile by Tom Basden at the Manchester International Festival
Note: This review is from 2015
You don't normally associate Fyodor Dostoyevsky with lines like 'aww, mate!', 'just dicking about' or 'can you please just fuck off'.
Nor do you associate the Crime and Punishment author with humour much, either.
But once this 150-year-old short story has been put through the Tom Basden processor it's become a surprisingly fresh, funny and relevant play. After all, a satire on someone who becomes famous for 'not really doing anything' is very much of this age.
Ivan, a hitherto struggling actor, found his celebrity by being swallowed by a crocodile. Whole. From within the belly of the beast he becomes a tourist attraction, commanding the sort of attention his worthy, but terrible, performance pieces never did.
It's a commentary, too, on capitalism. When Ivan's friend Zach reports the accident to police, the response is that nothing should be done to jeopardise the zoo-keeper's investment in the exotic amphibian. Business should be left to self-regulate because economic growth is worth every sacrifice is the stance taken, with obvious timely resonance.
Ivan's political principles blow with the financial wind. Once he finds himself the centre of attention he'd do anything to stay there. At first he uses his newfound platform to lecture – with an earnest allegory about Russian society. When that backfires, he quickly gives the people the frippery they want, and justifies it to himself too.
Making the consumed Ivan an actor, rather than the civil servant of Dostoyevsky's original, gives Basden plenty of opportunities to play with the ideas of artistic integrity, especially in the pointed banter between egotistical Ivan and his more grounded friend Zach, a legal clerk with no artistic impulse who acts as the voice of the critic and of reason, if not of ambition.
The casting couldn't have been better. The cautious and cynical Zach involves playing to dry sardonic type for Simon Bird; while the lesser-known Ciaran Owens relishes every moment of flamboyance and showmanship and truly owns the stage. And while the pair exchange dextrous verbal volleys, 'fish-faced' scene-stealing clown Marek Larwood brings plenty of exaggerated physical humour to his multiple hilarious roles as zoo owner, police chief, tsar, angry mob member and countless more besides. The cast is completed by a very watchable Emma Sidl, who flip-flops between the attentions of the two leads.
The staging's inventive – as required by a piece in which a main character is inside a crocodile, the beast being particularly imaginatively realised. The action takes place right down the middle of the Manchester International Festival marquee, more catwalk runway than proscenium arch, although occasionally background music, both deliberate and bleeding in from outside, intrudes.
Basden's script is not flawless, it can sometimes be heavy-handed with the agenda and could be a little tighter. It's notable that the running time expanded from 80 minutes to 90 a couple of days before opening night.
Yet he does the business where it matters: there are plenty of sardonic zingers in the central exchanges, the absurdism is nicely played, and the formidable performances bring out the wit. Maybe not quite a crock of gold on this debut run… but silver certainly.
Review date: 16 Jul 2015
Reviewed by: Steve Bennett
Recent Reviews
What do you think?