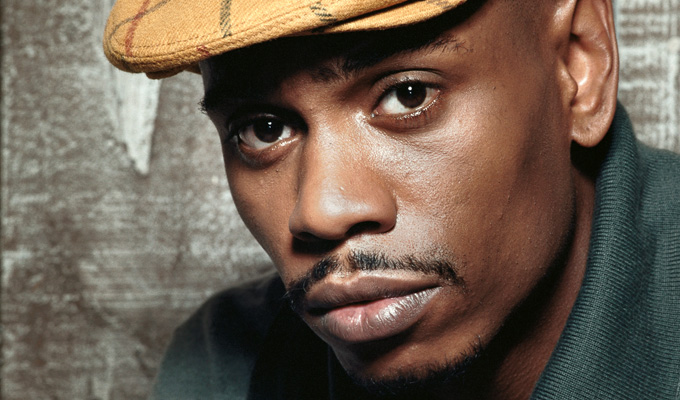 Dave Chappelle at the Hammersmith Apollo
Note: This review is from 2015
To combat this last one, prominent signs around the Hammersmith Apollo for his first ever full UK shows warn against filming – as is usual – and against heckling, talking and 'yelling out' – which isn't. The pre-show DJ and hype man repeats the warning for phones never to be seen, before using his decks to whip the audience to a frenzy so that Chappelle takes to the stage to the sort of deafening cheer the England squad might get at a World Cup Final. (I imagine…)
But the superstar entrance and the usual portrayal of this apparently polarising stand-up is only a small part of the story. What's missing from that image is Chapelle's sharpness, both in intellect and in the precision of delivery, not to mention his playfulness. You can see why the Detroit crowd were so annoyed with him earlier this year if drink dulled those astute senses.
He sets his level quickly, having fun with the mounting accusations against Bill Cosby, for a while making 'rape jokes' justifiable. Although it soon becomes apparent Chappelle just likes playing with the word, as he follows up with a more ethically dubious routine about male rape. That's the thing with Chappelle, sometimes he's pressing buttons on purpose, sometimes because it just amuses his rebellious side. That's the side that sees him chain-smoking throughout his performance, ban or no.
Still, he had to get permission from the council, which is less rock and roll.
But a disproportionate number of stories start: 'I got into trouble because…', told with as much honesty as defiance. Same with all his personal material, which means even a routine about jerking off has more impact than a cliched dirty joke, because you're sure this experience is first-hand – for want of a more appropriate term.
The filth sits, without jarring, with more socially charged material, often prodding around the niceties we use to smooth over tensions. Pedantically you might pick him up on the number of times he makes a 'that would be like…' analogy to convert such an observation into a dick joke. But he does it so well, he's forgiven. And as expected, racial politics is probably his strongest suit: not least a classy routine on times when he'll overlook a dropping of the N-bomb. You might be less comfortable with other of his race-based material – but that's the whole point.
Occasionally he seems to treading water a little (sitting next to a fat woman on a plane?), but he still does so pretty darned elegantly, and the audience – far more racially mixed than most comedy nights – never holds him in less than adoration. Though it's a slightly odd relationship at times; despite the notices, he gets a fair share of hollering (notably on even the most casual mention of weed), and one man is noisily ejected midway through for reasons unknown, though it could have been for illicitly filming.
He takes it all in his stride. In fact he's the sort of guy who takes being called 'pussy' as a compliment, considering himself 'soft, warm and persuasive', just like the real thing. The last adjective is definitely true, the middle one, too, but there's more grit than softness, when he scratches at issues, personal and wider.
But primarily he spins an excellent yarn: On encountering an overdosing transvestite at an art gallery; on being blackmailed by sex tapes or on getting into a a Twitter row - of sorts - with unhinged fellow stand-up Katt Williams. He certainly has a life less ordinary.
In every story he strings an audience along beautifully, always having us just how he wants us - as evidenced by his perfectly timed tale of getting a call from Barack Obama to help out on the campaign trail.
As for material about being in Europe, Chappelle don't know much about geography, but sneaks in a couple of pops at British tradition and the Greeks being shafted by the Germans.  On the flip side a segment about Ray Rice – an NFL player and wife-beater it slowly emerges – might sail over many British heads since the story is given no explanation
Overall, Chappelle sums up his approach by stating: 'I'm like Evel Knievel - I get paid for the attempts.' Which should be a mantra for live comedy, at its best when performed by daredevils risking a crash.
Tonight, Chappelle kept it loose enough to be interesting, and provocative enough when needed to inject a frisson into the atmosphere. But he also ran a relatively tight ship for his UK debut, staying on point for the a fast-moving 90 minutes, which culminated in a perfect multiple callback that gave a glimpse at the craftsmanship behind his natural demeanour, as he cheekily goads supposedly polite society.
Review date: 9 Jul 2015
Reviewed by: Steve Bennett
Dave Chappelle has a reputation as the bad boy of comedy. If you knew him only by media coverage, it would probably be for quitting his lucrative Comedy Central series, for being at the centre of various controversies, and for shaky YouTube footage showing him in combat with baying audiences.
Recent Reviews
What do you think?