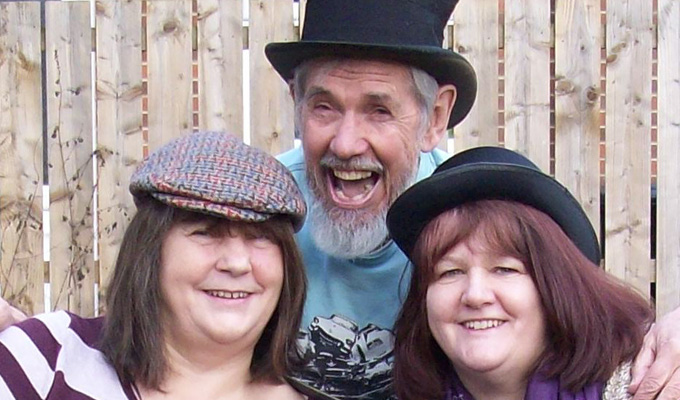 Chris Graham Variety Show
Note: This review is from 2015
I learned a Lot about Chris Graham, but only after his show. For a starters, he's Victoria Wood's brother.
Sadly, the sense of humour doesn't run in the family.
For here he seems like an affable 74-year-old fulfilling a long-held personal dream to do comedy, but without much of a clue how it actually works. There's more to it than a cheery demeanour.
The lack of comic compass not the only drawback he's fighting in putting on this Brighton Fringe. He's the only one of an advertised (and pictured above) cast of three who's here – and do we detect a hint of sadness when he explains that his erstwhile cohorts don't want to be part of the show any more? And initially there's no audience, either, except for me. Eager for a review, he musters up six more souls from the hipster coffee shop downstairs, which are certainly not his prime demographic. After all, 'the show must go on'. In retrospect that motto sounds more like a sinister threat.
We start with a forced, jaunty song, that does nothing to set the mood when sung hesitantly and reluctantly by this modest choir. Then there are some topical comments that he likens to the material heard on That Was The Week That Was (1962-1963), a comparison which might have David Frost spinning in the grave. He explains, far too verbosely, articles from the newspaper both well known (the Ed Stone) and obscure – an investor buying a stake in a Belize oil company – followed by a feebly wry 'pfft? What's all that about?' comment that you might say if reading the story to a mate.
Sketches are equally cringe-worthy. A recurring one has Prince Charles as a petulant teenager – like Kevin The Teenager, he explains – whinging to the Queen, played by a game audience member. In a typical scene the Prince (he doesn't do the voice) heavy-handedly learns that he's a bit German and vowing to stomp off to make Wales his own nation so he can become King. Another skit, in which Graham plays a naughty schoolboy, is redolent of The Clitheroe Kid (1957-1972) on a bad day.
But criticising Graham is a bit like kicking a puppy. It seems like he just wants to put on his little show for his own amusement, so you can see what he gets out of it. It's harder to see what any audience would.
My post-gig Google reveals that his real name is Chris Foote Wood and he's has an interesting life: a long-standing Liberal politician in the North East, writer of several factual books and pioneer of free newspapers through the Durham Free Press.
Yet if he carries on this track, it'll be hard to see him add 'comedian' to that illustrious CV, since he has the air of being very much out of place when put near any vaguely professional – or even keen amateur – acts.
• The Chris Graham Variety Show is on at the Marwood Cafe, Brighton, as part of the Brighton Fringe tonight and tomorrow at 8pm.
Review date: 23 May 2015
Reviewed by: Steve Bennett
Recent Reviews
What do you think?