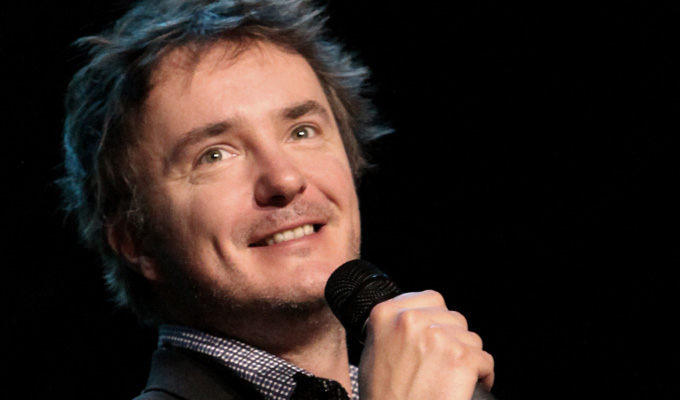 Dylan Moran: Off The Hook
Note: This review is from 2015
He doesn't much chug at his ever-present red wine, not like he used to, but Dylan Moran remains the epitome of 'in vino veritas'. It may seem like he's not present, floating in a befuddled state over the world, seeing it through a distorted lens until all is surreal – yet from that abstract standpoint, truths are revealed, and hilariously.
For all that he outwardly appears a little shambolic, there is great detail in the expression of his ideas. Many might whinge about hipster cafes, one of the more quotidian of his concerns, but Moran's description of everyone having 'the beard of an Edwardian cricketer' just captures the familiar scene so perfectly, making the ridiculous sublime.
There is great thought, too, in the philosophy behind his routines, key among them how we constantly seek distractions from our inevitable loneliness, whether it's worshipping at the new church of iPhone, or forging a relationship – both seem roughly equivalent in his eyes. Some of this might seem a little bleak, and Moran is certainly no natural optimist, but if you are laughing, ho bad can it be?
Today's election lies on his mind, too. He's certainly worried that here in darkest Kent, it might be getting a bit 'Ukippy'; yet his description of each of the party leaders is hilarious, astute yet fantastical and surprisingly corrosive for whimsy. His is the fabled iron fist in a velvet glove.
The temptation in reviewing him is to simply regurgitate so much of his material, since every paragraph, more or less, contains a beautifully distilled pearl of wisdom summing up his generally distrustful opinion of the world.
Age is physically catching up on him - the temples a little greyer, the girth a little wider (the subject of some fine jokes itself). Yet middle age suits him, as the years add weight to his barstool wisdom. However he's not an archetypal grumpy old man, as he knows the futility of railing impotently at the world he cannot change, so has a grudging acceptance.
He doesn't want to be our friend, either. He must be one of the few comedians to instruct his audience: 'Stop clapping! I know you want to signal you're having a good time, but I don't care.' It fits his overarching attitude of defiant idiosyncrasy.
In the second half, he takes his foot off the insight-throttle just a touch, as he explores the ancient quandary of how men are different from women, that perennial touchstone of which audiences never tire. Yet even here, he instils a lyricism to his indifference towards scatter cushions, to the difference in flirting, and to many angles beyond, which elevates simple observation into something resembling a philosophy.
Moran may have the soul of a poet, but he has no time for romance, which he sees as trivial compared to the grind of longer relationships. Once infatuation has gone, it's down to practicalities – and never more so when you bring children into the equation.
As usual, a succession of his surrealist doodles form the backdrop to his set, never apropos of what he's actually talking about, but more insights into his creative mind and askance thinking.
On stage, he's a man fighting emasculation and irrelevance with an arsenal of absurdism and insight, and if not defeating them, at least holding them at bay.
Review date: 7 May 2015
Reviewed by: Steve Bennett
Reviewed at: Canterbury Marlowe Theatre
Recent Reviews
What do you think?