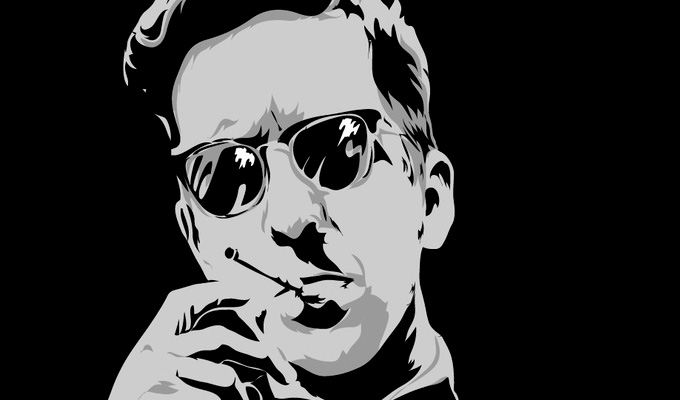 Ben Russell: The Tokyo Hotel
Note: This review is from 2015
A dynamic and versatile performer, Ben Russell showcases his considerable talents in this one-man sketch show, each scene taking place in a room of The Tokyo Hotel.
As the louche, elegant manager Mr Silverstreet, he deploys film noirish language to paint an evocative picture of faded grandeur, telling how this once-opulent establishment was once the epitome of Hollywood glamour, but now sits a shadow of its former self in a neighbourhood of 'zipheads and crack weasels'.
It's a place rich with magical realism. Emperor Caligula rides the elevator, or you might bump into Werner Herzog in the corridor. It's the sort of hotel the Eagles would write a song about. Elsewhere, Carlos the resident pianist debates the benefits of 'sex with a retard', Martin Leblanc spouts his conspiracy theories, or unhinged actor Grey Mendelson gushes about the success of his deformed TV antihero Double Nose.
Displaying a varied range of peculiar foreign accents and a bulletproof commitment to his characters, Russell performs with a pacy energy, zipping in and out of a door on stage, spinning it around as if in a dance. With his intense eyes and controlled madness he brings to mind elements of Marty Feldman, while the writing really revels in the sound of words, namechecking the likes of Ponsonby Castlegreat.
As a show, though, there are some reservations about The Tokyo Hotel – as it can feel a little self-satisfied and disjointed, and sometimes more impressive than funny.
Russell – who spent five, clearly fruitful, years with Chicago sketch institution Second City – refers to the show as a 'fever dream', and that's a fair reflection of the stream of surreal ideas thrown into the faces of the late-night audience. But it would probably benefit from more narrative, of the sort that the similarly slick and talented Pajama Men deploy, to help gel the absurd scenes.
But as a calling card for Russell's considerable performance abilities, The Tokyo Hotel gets the job done.
Review date: 16 Apr 2015
Reviewed by: Steve Bennett
Reviewed at: Melbourne International Comedy Festival
Recent Reviews
What do you think?