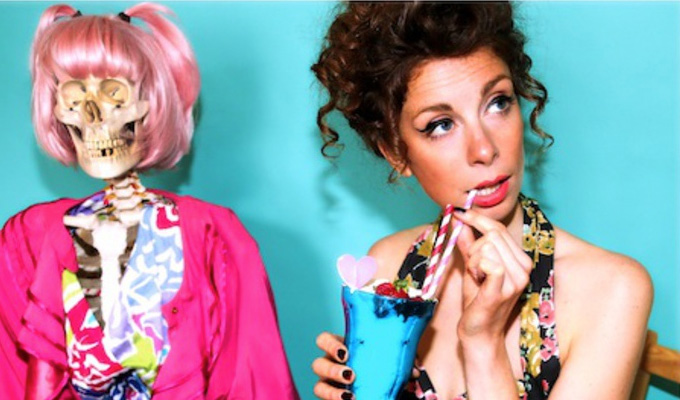 Helen Duff Vanity Bites Back
Note: This review is from 2015
An odd English cook with a very unconventional approach to food preparation has arrived in Melbourne. And this time it's not Heston Blumenthal.
In Vanity Bites Back, Jill Grainger, the alter-ego of actress Helen Duff, presents the pilot of her TV cooking show with that peculiar demented determination to have 'jolly hockey sticks!' fun that only the posh can pull off. She forces biscuits on to the audience as they arrive and chats with them with a mixture of condescension and over-enthusiastic bonhomie. She's a special brand of high-spirited bonkers, like a female Tom Baker.
Like just about everyone on the more alternative end of the comedy spectrum, she has studied clowning under Philippe Gaulier, and has learned to use her long-limbed body and cartoonishly expressive face to good advantage. The conversations with her exaggerated reactions often break for non-sequiturs, some with their own deliberately misjudged sound effects, making the audience both welcomed and wary.
Some of the interactions, and some of the food preparation pieces, are drawn out rather too long, but just as things get restless she'll change tack or drop in a perfectly eccentric use of language that reminds us there's a script behind banter that seems improvised.
It's not a huge spoiler to reveal that the cheesecake-making demonstration gets messy, as any comedy show featuring food is obliged to do. She manhandles the ingredients, slopping them around liberally and basting herself in a display of gunky slapstick.
Later, she reveals why she has such a strange attitude to food, as a story about a bicycle accident suddenly adds an unexpected honesty and emotional edge. However the transition with the Knockabout silliness is not a smooth one. The two strands could certainly be more naturally intertwined, although once the reveal is done, some of the earlier oddness does make a little more sense.
Like her disgusting dessert, the proportions of the ingredients are wrong; it's variously sweet, disgusting and sloppy; and a little would go a long way. But this ambitious, quirky show is close to satisfying.
Review date: 14 Apr 2015
Reviewed by: Steve Bennett
Reviewed at: Melbourne International Comedy Festival
Recent Reviews
What do you think?