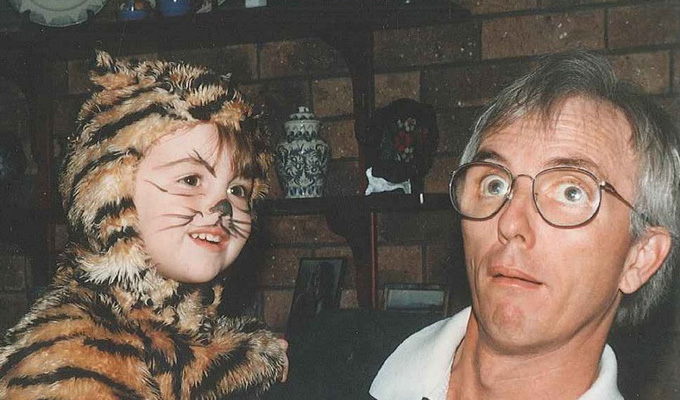 Sam Campbell: Cambo's On Top
Note: This review is from 2015
Sam Campbell's debut is the raw, undisciplined product of a creatively strange mind.
The Sydney-based comedian has appeared in Dayne Rathbone's web series Dayne's World, and there are strong similarities between the two, as they share a disconcertingly odd sense of humour and nervousness of delivery. Campbell tries to put a cockier showbusiness swagger on to his insecurities – but, by design, it's unconvincing. The tone is like an awkward child staging a performance in front of his parents.
Talking of which, his show starts with a catchy song about Mums vs Dads which takes a dark turn and offers a psychological insight that may explain the next hour of stilted oddness. When a joke lands he boastfully jiggles a stick festooned with ribbons in triumph; when it doesn't, the hesitancy returns to the fore.
The absurdist anthology makes imaginative use of the screen to his side, with some amusingly warped animations and even a bizarre tribute to Richie Benaud of a kind you won't see on the TV. Kudos to the 23-year-old for incorporating something so topical into what started off as a tragi-comic video story about taking a date on a Thunderjet ride around Sydney Harbour.
Elements such as this, tethered to reality, albeit loosely, work the best. Other items sometimes seem to be working too hard to be ridiculous, such as the deliberately low-rent parody of author Tim Winton or stories of his pet axolotl, though hearing the animal's name is always pleasing in itself.
Campbell does keep you guessing, that's for sure, there's no way of predicting where his unhinged mind will wander next. You'd never want him over-polished – fat chance – but there's still a feeling this show needs a stronger sense of direction to bind the peculiarities together.
He'll be a must-see festival cult in three to five years, so early adopters climb on board now.
Review date: 13 Apr 2015
Reviewed by: Steve Bennett
Reviewed at: Melbourne International Comedy Festival
Recent Reviews
What do you think?