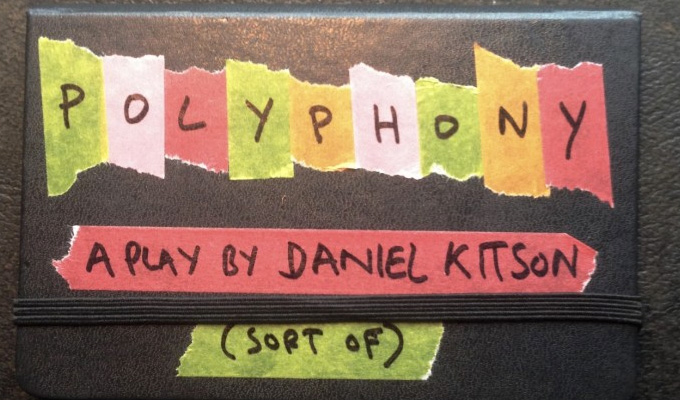 Daniel Kitson: Polyphony
Note: This review is from 2015
Daniel Kitson's typically boastful about the scope and ambition of his new show, speaking of his genre-busting form and mind-blowing themes.
But no meat-puppet actor could possibly do justice to his genius... and he never much liked them anyway. So rather than deal with the tiresome rigmarole of working with incompetent egotists each night, he has recorded all their parts in advance. Twenty members of the audience are given iPods attached to portable speakers, and if they all press play at the same time, the drama can unfold, perfectly synchronised with the 21st actor, Kitson himself.
There is, of course, some protracted faff as our shaven-headed host hands out all the devices, picking out those he most likes the look of to carry the responsibility. To cover the admin, there's the closest thing to stand-up that Kitson's performed for while as he fills us in on what he's been up to, his musings on man's inevitable loneliness and pondering about his own moral standing
Then comes the moment of truth as the buttons are pressed, a palpably tense wait to see if they all kick in as planned or, as tonight, if more padding is needed as Kitson painstakingly resets every one of the devices for the second take.
What happens one the iPods are activated is probably best described as 'meta' - although that overused adjective seems inadequate to convey the layers of reality in the construction of what goes on. The central play also involves people gathered in a room to start recordings on time, while the practicalities of getting a score of people to act as one has its own problems.
It's hard to describe without giving spoilers, but suffice to say Kitson grapples with both his supreme self-belief and the nagging do doubts of his own inner critics, their voices pecking at his edifice. Has his theatrical work become formulaic, relying on the same melancholic undertow? The same linguistic tricks of gratuitous swearing and semi-archaic language? And what's with the peculiar start times and off-the-beaten track venues he insists upon.
Quite what a Kitson neophyte would make of this would be interesting, full of references to his days as a commanding late-night MC as well as his softer subsequent career. And for all the semi-mock self-aggrandisement – and overacted stomps at the impudence of anyone questioning his genius – this show hasn't the emotional allure of most of his work, or even too many huge surprises once the conceit has been properly set up.
But what a clever, ambitious conceit it is, a testament to Kitson's audacity of imagination, and expertly executed, especially as satisfying, surprising cross-references to earlier lines hint at the hidden structure. The result is impressive and frequently funny, but also more of an ostentatious way for the creator to show off his undeniable ability than a tender piece with compelling, heartfelt engagement, as his finest work displays.
Review date: 7 Apr 2015
Reviewed by: Steve Bennett
Reviewed at: Melbourne International Comedy Festival
Recent Reviews
What do you think?