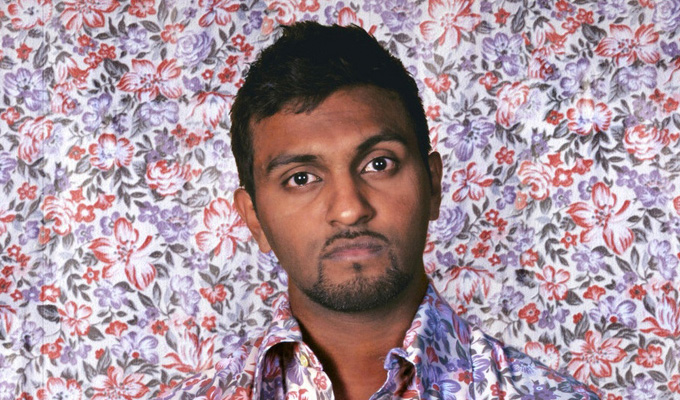 Nazeem Hussain: Legally Brown
Note: This review is from 2015
This might be his first solo show, but Nazeem Hussain comes to the Melbourne comedy festival with his own TV vehicle – SBS's Legally Brown – and years of experience as half of the Fear Of A Brown Planet duo, which results in a slick and well-received hour.
Being Muslim is always going to inform this scion of Sri Lanka's world view, and he eloquently expresses what it's like to be an outsider. In many ways he does exactly what's expected of him, with cheeky references to Islamic State and Al Qaeda, tongue-in-cheek mocking of the stereotypical Indian head-wobble, and the way he doesn't fit into much of Australia's beer and footy culture – all of which is stylishly executed, if hardly groundbreaking. Perhaps he feels he needs to be accessible as possible, as the very concept of a Muslim comedian in itself might be hard for the ill-informed to take.
Into that ill-informed category we might put the spooks of Asio, with their cack-handed questioning over expense-account lunches suggest that calling them an intelligence service could be an oxymoron. Joining them would be TV journalist Jana Wendt – whose story at the height of the Gulf War about the comic's father being listed as S. Hussain in the phone book led to harassment that had never previously existed.
These first-hand tales are more engaging, like everything in the show, delivered with wry comment and a lot of likeability. His storytelling is always enlivened by an animated performance, a playful twang in his voice and a propensity to slip into exaggerated caricature of some of the supporting characters, from his family to the drunk Aussie bloke demanding prostitutes in a Malaysian 7-11.
It all contributes to the image of him as an easy-going charmer who makes cultural points subtly rather than being a hectoring firebrand; although that affability also means he could probably still take a few more chances, or offer up a few more surprises, without scaring the mainstream.
Review date: 4 Apr 2015
Reviewed by: Steve Bennett
Reviewed at: Melbourne International Comedy Festival
Recent Reviews
What do you think?