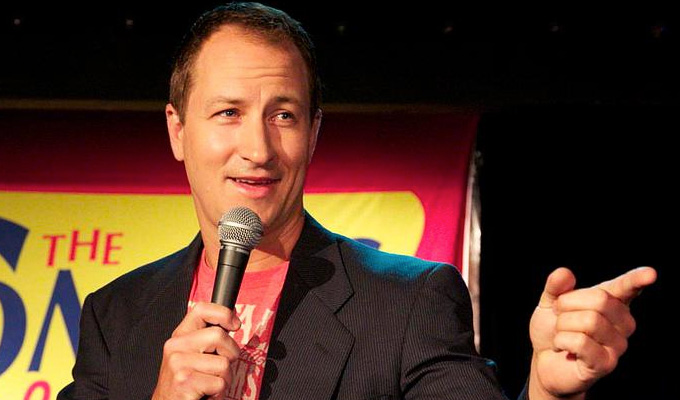 The Heckler
Note: This review is from 2015
To live someone else's life, if only for a day, is such a potent philosophical scenario that it's little wonder that there's an established film genre of body-swap fantasies.
The latest addition to the list is the modestly charming The Heckler, in which an obnoxious loudmouth enters the body of a mildly successful stand-up, possibly on the brink of a big break.
To heckler Mike, played by real-life comic CJ Fortuna, comedy is an express ticket to fame as an escape from his shitty life. Yet he doesn't have a humorous instinct in his body, so is reduced to snidely, jealously ruining the set of 'Six Million Dollar Man' Steve Austin from the shadows.
Yet he gets his fast-track into the business when following a disgustingly funny encounter in a comedy-club toilet and a hypnotism gone wrong, he finds himself in Steve's body – while its previous occupant is left to float as a ghost, invisible to all but the man who has taken over.
Steve, played by actor and former TV sketch comedy performer Simon Mallory, is, or was, no comedy purist; but a singularly focussed egotistical careerist, who would cynically leave the mother of his son in the relentless quest to get to the next rung on the ladder.
Following the exchange of souls, reckless drunk Mike sets about gleefully ruining Steve's life and credit rating, as the latter looks impotently on. He blows Steve's biggest moment, too. Believing comedy needs no preparation, he dries up on his high-profile TV debut, resorting to old – and offensive – gags in the absence of anything else.
The pivotal point of the film requires more suspension of disbelief – even if you are already buying into the whole whole body-swap premise. At a big televised comedy competition, UFC – the Ultimate Funniest Comedian – the previously dumbstruck Mike suddenly finds his voice and riffs on his miserable past, and on what's effectively his first gig triumphs over well-practised rivals.
The third act, when all is sorted out, seems longer than it ought to be for the pacing of the story - although it also contains some of the funniest lines of the frequently entertaining movie, including one absolutely brilliant but perfectly natural, film parody line that you'll never see coming.
Indeed, there are several funny set-piece scenes and asides across the witty Australian movie, the first feature for both director Ben Plazzer and writer Steve Mitchell, but never at the expense of plot.
The low-budget film – the lack of money only really noticeable in some shonky attempts at Ghost-like special effects – won the best ensemble prize on its world premiere at last year's LA Comedy Festival, and indeed the entire cast is credible, empathetic and possessing a keen comic sense. That said, Fortuna is the big revelation as the rogueish Mike, both goofy and disconcerting, able to get laughs from a facial expression alone and elevating the character from a one-dimensional arsehole.
Meanwhile other stand-outs include Scott Harrison as the ineffectual agent adding extra comedy scenes, and Emily Taheny as the ex-partner, simultaneously tough and vulnerable, adding humanity.
Ultimately The Heckler has something to say about the key to comedy being in the soul of the performer – but even if you're not interested in such insights, the movie, which had its Australian debut at the Melbourne International Comedy Festival last night, offers plenty to please. You'll really have no reason to heckle the screen…
Review date: 4 Apr 2015
Reviewed by: Steve Bennett
Reviewed at: Melbourne International Comedy Festival
Recent Reviews
What do you think?