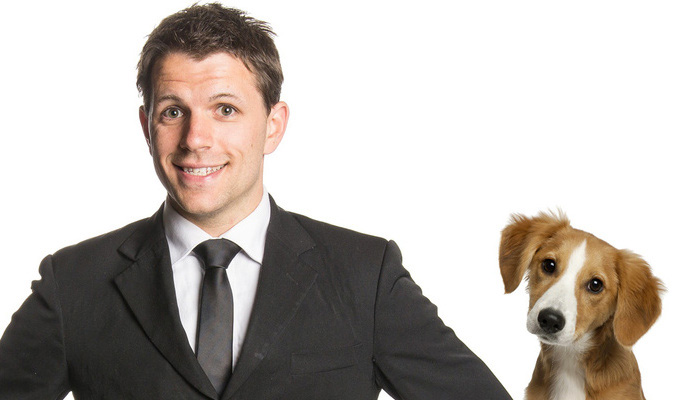 Rob Caruana: Learn Comedy
Note: This review is from 2015
Seventeen minutes in, and Rob Caruana's show is interrupted by his brother and his mates noisily entering the tiny 40-seater room. Another 15 minutes later and half of them leave again, off to see the Umbilical Brothers down the road.
Such conspicuous rudeness might disrupt the flow of many a comic, but flow isn't something Caruana really does. The hour is all over the shop as he leaps from one half-completed idea to the next. 'It's a different show every night!' he boasts not pausing to wonder if that's necessarily a good thing, whether he should maybe focus on working one routine long enough to get it right? The very suggestion seems anathema to him.
Luckily, Caruana is as funny as he is attention-deficient. His innate sense of silly is infectious as he produces one cheap prop after the next. Behold the musical panda, the novelty fly-killer, the mini golf club he hasn't got a joke for yet. Caruana is a man who loves low-budget. Who else would actively shun stage lights in favour of a desk lamp for illumination?
Many of these snippets, like the twist he dances to the Batman theme, or the scribbles he makes on a handheld whiteboard, don't particularly go anywhere, but their casual abandonment is funny for his lack of commitment. He's a comic who doesn't even take his own comedy seriously.
However it would probably be more rewarding if all these flighty moments sprang from a more robust base.
With a surprisingly recognisable stand-up routine towards the end, Caruana demonstrates that he can hold on to an idea for more than a few seconds. Even the sloppy slapstick with the flour and other food that make a right mess of his once-smart black suit and tie suggest a piece that he has at least thought about, however apparently anarchic.
The title, Learn Comedy, is an in-joke, too. It's because he's here to learn comedy he explains, not teach it as you might expect. He has some learning to do yet, but he's certainly an enthusiastic student.
Review date: 4 Apr 2015
Reviewed by:
Recent Reviews
What do you think?