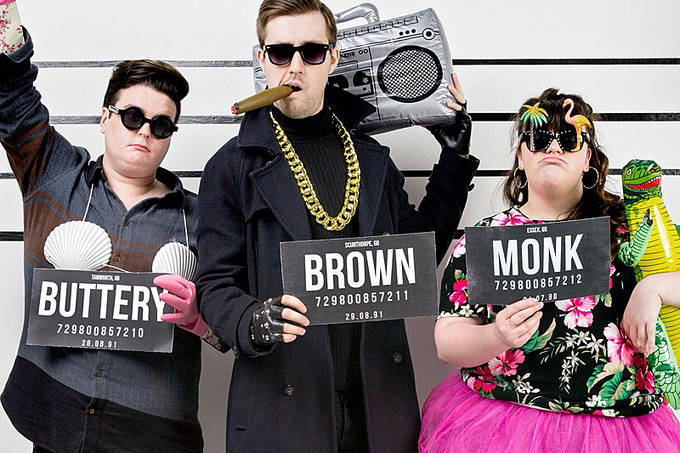 Buttery Brown Monk
Note: This review is from 2015
The first thing to say about Buttery Brown Monk is that that their name – like the similarly theological Cardinal Burns's – comes from their surnames, not just some random juxtaposition of odd words.
The second thing to say about them is that they are theatrical. Very theatrical.
This is a sketch show of big, bold and booming performances, often ultra-camp, and the trio never seem to be having more fun when they're leaping guns-a-blazing into a spoof musical about Greggs or – a dozen years after Jerry Springer: The Opera – Jeremy Kyle.
So it's no surprise to learn that they have drama academy credits and that the Buttery one, Samuel, has played Leigh Bowery in Boy George's musical Taboo, as well as being a past finalist on The Voice. Ryan J Brown likes a melodramatic performance, too, and while Jamie-Rose Monk has a wider range, showing a flair for the believable everywoman type, she also revels in the broader moments.
Given their background, it's no surprise that quite a few sketches are about acting, such as the agent sending his desperate thespian client on a godawful tour, an Inside The Actors' Studio spoof and Russell Crowe auditioning for Les Miserables. The latter has a has a touch of Adam Riches' unbendingly confident alpha-actors Daniel Day Lewis or Sean Bean to it.
Some of these scenes use the over-the-top performances to enhance an amusing script but, over the whole show, the full-volume exuberance is more often a cover for flaky writing. It's testament to this trio's supercharged verve that they get away with it for so long, since on the page these sketches would amount to very little. And a couple of the quickies, honed down just to what passes as a punchline, are downright awful.
They almost come unstuck early doors as their second sketch, before they have established themselves, is about a beheading. Parallels with Islamic State brutality probably never occurred to them – a flaw in itself, saying much about the showbizzy world they inhabit – but it sets an uneasy tone. However, a later potentially offensive skit, about a missing girl, hits the right note of glorious bad taste and strong punchline
Otherwise we bundle at full pelt through the likes of a pastor at an ultra-Christian gay conversion camp or a relaxation tape as narrated by X Factor voiceover man Peter Dickson, who might as well be their acting coach. Their joyous energy powers through the hour, but once you start noticing the cracks that all the razzmatazz is trying to distract you from, the show looks on much shakier ground, despite a smattering of stronger offerings.
Review date: 27 Mar 2015
Reviewed by: Steve Bennett
Recent Reviews
What do you think?