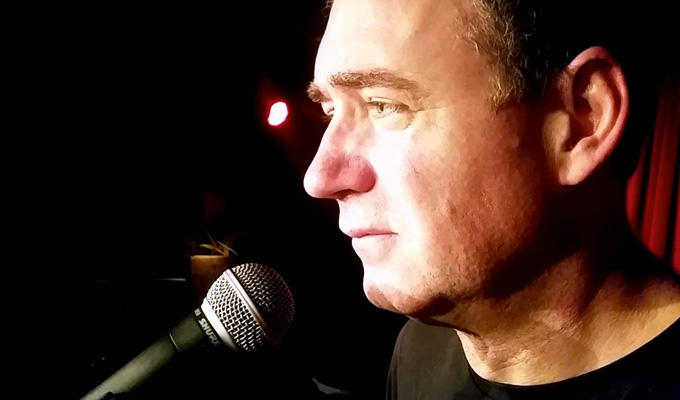 Death Of A Comedian
Note: This review is from 2015
There's an awful lot of bland, watery observational stand-up in this show… but for once, that's not a criticism.
Death Of A Comedian is a timely play about the state of an industry that disproportionately rewards likability and 'relatability' over invention and wit. Its message of selling out could resonate with any artform but there's something about the one-man-one-mic purity of stand-up, and the profound impact it can have in the right hands, that makes the wasted opportunity all the more poignant.
We first meet Steve Johnston backstage at some dive of a comedy club fretting 'what if I'm not funny?' to his supportive girlfriend. On the evidence of the patchy set, we're not so sure… he's got a charm and engaging trademark gesture, a slathering wobble of the mouth, but material that only sometimes lands.
In his stand-up, the political points are bluntly made and light on humour – calling George Osborne a dickhead, say – but it's mixed with more mainstream fare and a silly gag about a racehorse. His supportive girlfriend (Katie McGuinness) fluffs his ego, but also knows he could be better, if only he could decide what he wants to say.
In the crowd is her counterpart – the hugely successful agent Doug Wright, a silver-tongued, charismatic wide boy, concerned only with the dollar. 'I'm always moving forward,' he boasts… 'like a shark' being the obvious implication. He offers Johnson fame and fortune, but at a price to his integrity. The Faustian terms couldn't be clearer.
So Johnson is left to choose between finding himself or hiding himself; and he takes the gilded route that Mr Wright offers, advancing through ever larger stages. By the end, his set is a tick-box of cliches: self-service checkouts, naked guys in the gym, domestic disputes over juice cartons. He signs off 'I've been Steve Johnson,' but, the audience is left pondering, who is he now?
That Johnson was never going to be the next Lenny Bruce is key to his transition. He was never primarily driven by the need to spread a message. 'I found out I could do something, so I'm doing it,' is his simple motivation for becoming a comic.
Playwright Owen McCaffrey doesn't overly indulge Johnson in soul-searching, which might have carried a heftier emotional punch, but serves up a more realistic picture of a man being pulled along in a current stronger than he can bother to fight until he's a sellout in both senses of the word. However, a moment of reverie amid his arena-filling stand-up offers regret as to what might have been.
Artistic compromise is the sort of territory covered by Ricky Gervais's Extras, but McCaffrey expounds more directly about the choices Johnson makes. The astute script contains many wry comments about the industry, and a particularly deft analogy between comedy and the world of boxing, both full of backstreet hopefuls getting pummelled every night for the shot at fame they will statistically never get. In-jokes about skipping across the stage or cynically taking on physical challenges for charity, Comic Relief-style, to convince audiences he's a 'good bloke' do not go unnoticed either.
Brian Doherty's central performance is compelling, as he slips from rebel in a Ramones T-shirt to yet another sharp-suited Everyman; while Shaun Dingwall is perfectly diabolical as the intense, persuasive Wright.
The play has been directed by Steve Marmion of Soho Theatre – to where it transfers next month – and his experience of hosting the most critically lauded stand-ups at his London venue has clearly been put to good use in getting under the skin of the business. He's kept this production taut, although there's perhaps a little too much insipid stand-up at the end. And simple but effective set design, with a range of increasingly showy backdrops, underline the show's salient points.
Review date: 20 Mar 2015
Reviewed by: Steve Bennett
Reviewed at: Dublin Abbey Theatre
Recent Reviews
What do you think?