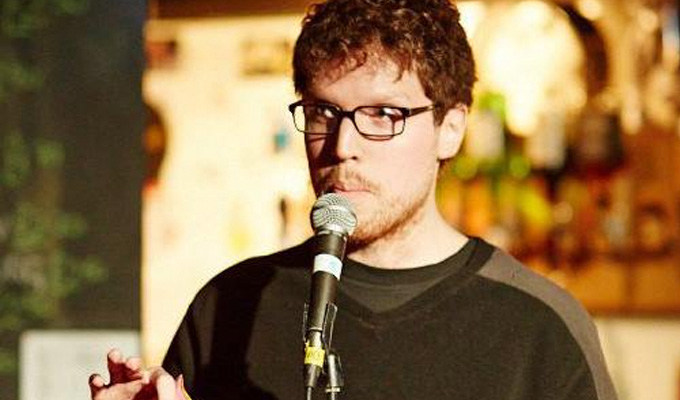 CHUNKS Of The Year 2015
Note: This review is from 2015
Loosely set up like a talent show for the maladjusted and socially maligned, with each act competing to win the Golden Pineapple trophy, this anarchic chunder through a seemingly endless succession of weird and often wonderful characters grabs you with its devil-may-care energy and spirit of misrule.
The CHUNKS are a ragtag collection of young-ish comics. And no expense has been spent on this Glasgow Comedy Festival celebration of their regular monthly night, notwithstanding one hubristic act's cream pie weakness and a taxi for the eventual winner, appearing at the end for perversity's sake.
A Scottish cousin to a collective night like the Bearpit Podcast (Podcast), the fact that this free gig is run like a juvenile, two fingered salute to conventional entertainment and social decorum is a significant part of its charm.
Making the most of the evening's talent show format, one of the funniest sequences proved to be an episode of Stars In Their Eyes featuring an impression of the Manic Street Preachers' Richey Edwards.
Damningly, Sandy Bouttell played Jumanji-era Robin Williams, berating those who didn't give him enough acclaim in his lifetime, unquestionably the darkest moment in a show featuring a spoof obituaries reel projecting lurid vomit and effluence.
Corralled by Jamie Rolland and Nev, whose strained friendship belatedly provided a subtext to the hour, acts are summoned on stage still fixing wigs or loudly reiterating their name to compensate for a lack of decent costume.
Rolland's dubious illusionist Dane Magic set the tone, with a lack of talent being a positive boon for appearing. The insistent demand for a female volunteer to serve as his assistant emphasised that no women comics are involved (CHUNKS scarcely bother to drag up as a couple of working and middle-class mother archetypes) – but these men children are saved from being irredeemable losers by repeatedly making themselves and their mates howl.
That in-jokiness and knowing laughter from the back of the room occasionally threatens self-indulgence with a few sly digs at the Scottish Comedian of the Year contest.
Nevertheless, Richard Brown's cocaine-craving Jongleurs Comedian, initially a straightforwardly snobbish sneer, evolves amusingly into a Beckettian figure, wilting with the weight of his existential crisis under the bright, Saturday night lights.
Equally, Ross McLellan as the blowhard King of Jokes, positioning himself as the heir to Jim Davidson and Roy Chubby Brown, effectively gave the evening a fine pantomime villain.
The show intersperses quick, witty little physical vignettes, where the setup is all in the character's name, such as Vegan Satanist, with longer form creations such as Phil O'Shea's self-aware duck, who acknowledges his rock 'n' roll swagger. There are few interludes, the acts simply crashing on as and when they're announced.
Paul McDaniel is blessed with great features for comedy. And his growling rendition of Chris Rea's Driving Home For Christmas, sung deadpan and borderline incomprehensible between electric shocks was an inexplicable delight, even if a reprise with The Four Tops' Loco in Acapulco wasn't quite as successful.
Other standouts included McLellan as Blaine 'Fucking' Champagne, an aggressive US finance guru marketing dodgy pyramid schemes and his theory of 'Dickinomics', succeeding through force of delivery rather than massive originality; an incongruous job interview between Chris Thorburn and Tony Sloan, where some unpromising crosstalk blossomed hilariously into a vision of the pair's romantic life together; and Rolland, apparently channelling Christopher Walken as a paranoid, pigeon-obsessed man believing himself cuckolded.
The misfires were few and generally intrigued with their oddness anyway, the ongoing churn and sheer number of performers keeping the memory from lingering long on the less successful moments, the hour defined by its pacy relentlessness.
Rolland's apparent desire to shed ever more clothes and the carnage of obliterated lettuce, cream pie foam and sweat dripping down the walls by the end, ensured the abiding memory was one of lawless gang tomfoolery, even as Ally Houston's desperate clown Shandy tearfully accepted the Pineapple.
Review date: 19 Mar 2015
Reviewed by: Steve Bennett
Recent Reviews
What do you think?