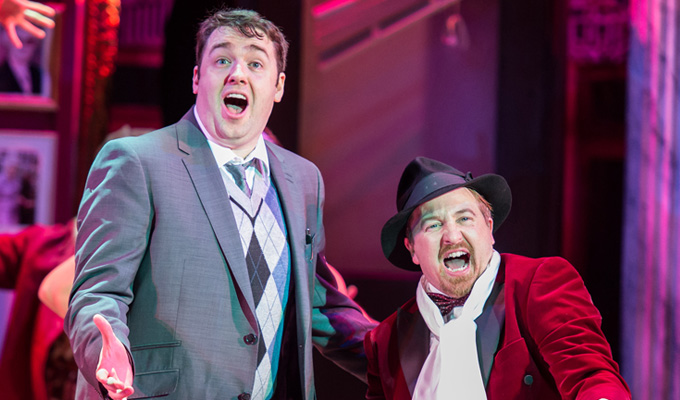 The Producers
Note: This review is from 2015
You can't escape Mel Brooks at the moment: his classic 2,000-Year-Old man sketches are being revived in London, he's about to make his West End stage debut at the age of 88, and now The Producers has kicked off its UK tour proper, with a first night in Manchester.
It's a local gig for Jason Manford, taking the role of Leo Bloom, the mild-mannered accountant seduced by the glamour of Broadway and the chutzpah of Max Bialystock to ditch his buttoned-down life and back a crooked scheme to stage the biggest stage flop ever.
There's a knowing laugh when a gobsmacked Bialystock declares after all their escapades: 'Leo! I never realised… you're a good singer'. But that wouldn't be such a surprise for anyone who's followed Manford's career beyond comedy, having displayed his perhaps surprising operatic skills on ITV talent show Born To Shine and as Italian barber Pirelli in Sweeney Todd.
This, though, is a far meatier role, and while there's a little initial uncertainty about his believability as a timid, wide-eyed naif who bumbles into Bialystock's office, that's quickly dismissed as he settles into the part.
In his first headlining musical role, Manford more than holds his own in a production of such glorious rambunctious energy that any trivial quibbles about, say, the very 1968 nature of the only female role of Swedish sex bomb Ulla, are barged out by the force of Knockabout gags and ear-catching showtunes.
It is, however, Cory English who drives this runaway vehicle as it careers destructively through delicate sensibilities. Little known outside of the theatrical world, at least compared to some of his co-stars, he pulls of the difficult balance of desperation, pizzazz and manipulatively smooth-talking conman with a rare verve. He ad-libs cheekily when het can't help Manford into his coat; magnificently delivers the high-speed recap that offers him a silly set piece, and handles the physical humour with aplomb.
Yet for all that he is a outlandishly over-the-top character, Bialystock is relatively grounded compared to the cartoon grotesques of the supporting cast.
As is well-known, the surefire dud the pair decided to stage is Springtime For Hitler!, a love letter to the Fuhrer written by a deranged neo-Nazi oompah-dancing pigeon-fancier. Phill Jupitus seems to be having a ball with the psychotic outbursts and surreal outbursts. Ross Noble takes the role later in tour, and he's likely to be avery different fascist then, but Jupitus is the right mix of unhinged yet comic nutjob.
David Bedella, no stranger to controversial causes since making his name starring in Jerry Springer The Opera, brings his booming theatrical voice to the imperious director, Roger De Bris. And as his sidekick, Louis Spence gets to do what he does best – camp it up to outrageous levels way beyond parody in very spangly suits. I mean dance. He gets to dance. And in a very showy way.
The staging is necessarily simpler than the West End production that starred Lee Evans a decade ago, but such is the verve that this cast could do it in an empty church hall and it still be a blast. Gone is the Busby Berkeley-style dancing number from the movie, the dancers choreographed in formation as a swastika. But in it's place is an inventive use of the Third Reich salute. This scene, a raging bonfire of good taste, is as delicious in its transgression as it ever was.
With such an effervescent show, the simple advice has to be: Don't be stupid, be a smarty, come and join this Nazi Party.
Review date: 18 Mar 2015
Reviewed by: Steve Bennett
Reviewed at: Manchester Palace Theatre
Recent Reviews
What do you think?