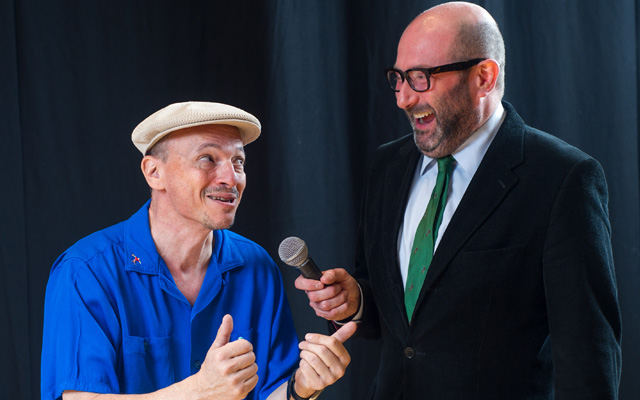 The 2,000 Year Old Man
Note: This review is from 2015
The 2,000-year-old man would actually be 2,054 now – given the adjustment for how long it's been since Mel Brooks and Carl Reiner first performed the now-classic routines.
And,dare we say it, he's starting to show his age.
The zippy dialogue is firmly lodged in the Yiddish vaudevillian shtick of the pre-1960s Catskill Mountains; aggressively fast-talking and firmly opinionated, but with a smidgeon of self-deprecation. Over an hour of wisecracking duologe, the tone is unflinching, and a little wearing.
Yet the show is not short of strong comic ideas and rejoinders that are whip-smart – or 'ship-smart' as the 2,000-year-old man himself emphatically insists the expression should be – that have certainly stood the test of time.
This revival at the JW3 Jewish Centre in North London – coincidentally perfectly timed just ahead of octogenarian Brooks's first ever London stage show – is a slightly strange beast, as the loose improvisation style of the original has been replaced by the techniques of verbatim theatre.
Since the Sixties, Brooks has been ad-libbing answers to Reiner's earnest, if sometimes peculiarly over-precise, questions about the history of humanity. But in the first ever stage recreation – which, in a fantastic coup, has been blessed by the creators – inquisitor Chris Neill and subject Kerry Shale listen to original recordings on earpieces, recreating every line and hesitancy as it was first performed.
To their credit, the device is well-hidden and, aside from the occasional cartoonish 'Wha-a-a-at?' from columnist, comic and broadcaster Neill that jars to modern ears, the duo perform with irrepressible gusto – even if you'd wish them to be off the leash a little more.
Over the hour, our one-time cave-dweller regales us with the origins of traditions such as shaking hands and singing, and about his personal memories of the likes of Joan Of Arc, Helen Of Troy's less attractive sister Janice (who nonetheless had a body that could 'launch a few canoes') and William Shakespeare, not such a hot writer as his reputation would have it, apparently – his penmanship was appalling.
Shale/Brooks's alter-ego is the epitome of the aged American Jewish retiree, complete chequered golfing slacks and flat cap, getting more passionate about the delights of a nectarine than he ever did about Jesus Christ. And when he talks of his prodigious offspring, he kvethces: "I have 42,000 children… and not one of them visits me.'
There are plenty of such gems in the hour, which make it more than a historical oddity. Yet it is also missing a spontaneity and variety of pace that would properly showcase the classic material in the best possible light. Still, it's good to hear the old lines again…
• The 2,000 Year Old Man runs at JW3 in Finchley Road until March 22.
Review date: 12 Mar 2015
Reviewed by: Steve Bennett
Recent Reviews
What do you think?