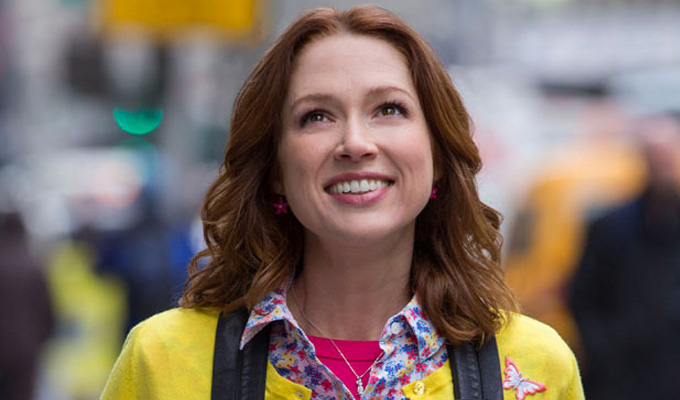 TV review: Unbreakable Kimmy Schmidt
Note: This review is from 2015
A few minutes into Tina Fey's new sitcom, Unbreakable Kimmy Schmidt, and you can perhaps understand why NBC passed on the project from their biggest comedy star.
The subject matter – about the traumatised survivor of a doomsday cult trying to make it in the human jungle of New York after 15 years of isolation – is  unusually dark for a US network sitcom. And the tone is decidedly weird; the opening segment about the rescue of what the media soon dub the 'mole women' from their underground bunker, bizarrely segueing into a pitch-shifted remix of the news report.
But the advantage of its new home on Netflix is immediately apparent. This is a show that benefits from a binge-view of at lest a few episodes, beyond the exposition-heavy opener. For once it settles into its rhythms, the snappy dialogue and surreally-heightened situations prove a delight.
Given that Fey created Unbreakable Kimmy Schmidt with 30 Rock showrunner Robert Carlock, it's little surprise that it shares many sensibilities with its illustrious forebear, not least the wonderfully witty lines dropped almost under the breath of sassy conversation.
The central character, wonderfully played by The Office's Ellie Kemper, could be a second cousin of 30 Rock's Kenneth – wide-eyed, naive and relentlessly upbeat despite the ordeal that continues to give her troubling nightmares. If she can survive a decade and a half of that, surely New York - she mistakenly believes with her sunny optimism – should be a breeze. Much of the comedy in Kimmy's fish-out-of-water character comes in her anachronistic view of the world, trying, for instance, to hide her amazement that phones now come with 'maps of Ohio on them'.
She quickly finds a best friend in the elegant, camp and sharply wise-cracking Titus, a would-be Broadway star who's wound up handing our video-arcade flyers dressed as an off-brand Iron Man. And she finds an employer in Jane Krakowski's Jacqueline Voorhes, a successful social-climber hiding her insecurities behind lavish spending to sate every irrational whim – it's what Jenna Maroney could have become had she made different choices.
The fun is in the quirky detail. All the characters have bizarre back stories – and that of the spaced-out landlady Lillian is especially peculiar – allowing flashbacks to flesh them our, as well as ramp up the already impressive gag rate. More occasional characters are strong, too, especially Martin Short's grotesque plastic surgeon Dr. Grant.
The strangeness of the situations is grounded with a whip-smart wit in the writing, with quotable jokes and quirky references crowbarred into each scene. Another Netflix advantage is that you can go back and watch episodes again to make sure you got every quip, as this seems a show that will only improve on repeat viewings.
Review date: 7 Mar 2015
Reviewed by: Steve Bennett
Recent Reviews
What do you think?