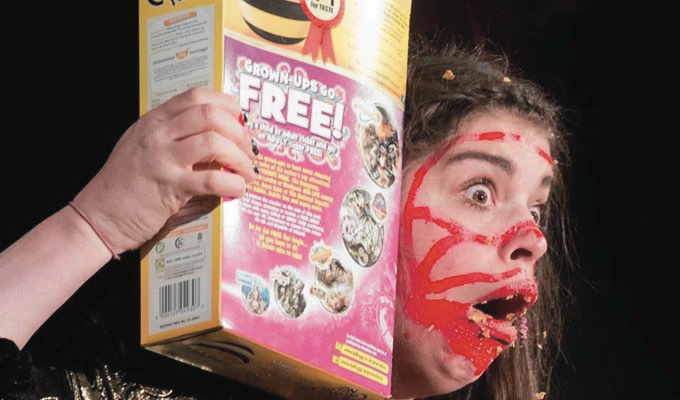 The Lion's Den's 8th birthday
Note: This review is from 2015
Comedy club comperes usually stick to generic questions when it comes to getting the audience bonding over shared experience. 'Give me a cheer if you're from this city!' At the Lion's Den, the biggest response comes from the request: 'Give me a cheer if you did your first ever gig here!'
For this is an open-mic night run mainly for the benefit of the open-mic acts. It's a workshop first, social club second… and a real comedy night only a distant third. The usual format is that new acts have to pay the £4 to get in put their name down and, if it gets pulled out of a jester's hat by the host, get their five minutes of stage time there and then.
The audience is back-heavy, with the many acts gathering nervously at the rear of the venue – an insalubrious nightclub tucked beneath a line of temporary street stalls selling tourist tat and selfie sticks near Piccadilly Circus. There's a yellow plastic sign near the bar, warning of a perilous damp patch caused by water dripping from the roof – it's that sort of place.
Yet, unlikely as it seems, this night on the fuzzy edges of the contentious 'pay to play' ethos, has become something of an open-mic institution in London – and, yes, that's in the old joke of 'it should be put in an institution…' sense, too. But in a scene when most open-mic clubs have the lifespan of a mayfly, Lion's Den last night celebrated its eighth birthday.
The handful of genuine punters who came might have felt a little like interlopers, entertained and baffled in equal measure by in-jokes not meant for them. There were a lot of gags about gags, about how set-ups weren't right or the audience reaction muted, which are an almost inevitable part of new material or new act nights. Most comics mentioned the elephant – or reviewer – in the room. But otherwise, analogy with the Biblical lion's den doesn't really work since it's lions being fed into a lair of lions – more supportive than scary.
For the birthday bash, the rules were changed and most of the comedians had been invited by promoter Tim Rendle from the favourites who had played their over the years, so included a lot more experience than usual. And there was a lot of them, too, the show running for three hours despite each act contracted to do only five minutes, some being better at sticking to that than others
MC Boyce Bailey was faux-brash and rambunctious, – jolly but most insistent in dragging the acts into the seats to form something like an audience. He would happily admit to faking enthusiasm, and urges us to do the same, for the good of the night. He did a decent job in sustaining the energy though no one could have prevented the flagging in such a marathon, and throughout the night made the most out of the gig while acknowledging exactly what it was. He was also tasked with going though the rules about timing for the benefit of the acts, even if the stage doesn't seem quite the place for that.
The performers he introduced were the expected mix of the good, the bad and the what the f…? and there were a lot of them, making it difficult for all but the strongest to stand out.
'I'm not enjoying this,' opening act Luke Gretton admitted, although it that much was obvious, creating a mood that infected the audience too. Unexceptional jokes about his bearded looks gave way to more interesting musing about why sex will never be as good as masturbation. But here was something onanistic about this still-new material, too, expressing lots of self-loathing but not in a funny enough way.
Nick Dixon has a sparky cynicism that engages while maintaining an edge to his well-crafted jokes, delivered with certainty, earmarking him as a possible future success. Tomboyish Saskia Preston was probably more memorable for her nervous machine-gun laugh, redolent of Lee Evans, than her material, which was generally workmanlike but with flashes of strong writing. But reading notes off a phone, even in a new material night, is a real distraction, giving the impression she's not engaging with the audience at all.
Dry and deadpan Joshua Ross delivered a self-deprecating package of his own insecurities, and although yet another slightly awkward comic self-consciously admitting his failures with emotional detachment is hard to stand out, he has some well-crafted lines. In contrast, James Loveridge was upbeat and very mainstream in his approach – and while his material may be a little blander than some, his cheeky enthusiasm and easy-going affability made him stand apart, and should probably secure him plenty of MCing work.
Kate Weston served up a lot of vagina jokes, in contrast to her winsome charm, but it seemed a bit too predictable, while the set-ups to other material were often garbled, leaving the audience struggling to find her wavelength. It was hard to get on board with Sean Mahoney, too, it not being clear if he was doing anti-comedy, or just being accidentally boring with convoluted stories about eating at Pizza Express or Sam's Chicken. But laughs of nervousness still count as laughs, right?
Current Chortle student champ Jamali Maddox started falteringly with a set about his lack of strong opinion on gentrification, but quickly righted himself with delightfully silly takes on racism, capitalism, modern slavery – some if it with an anecdote about eggs. A naturally warm, seemingly freeform delivery helps elevate his purposeful nonsense even further.
Robyn Perkins worked her butt off trying to get a reaction from the peculiar crowd, pumping the energy of a suburban substation into the room and flipping direction several times to find common ground. However she couldn't find material to match her technical strengths, and while the anecdotes are amusing, didn't quite stand out.
As Daniel Preston was introduced as a stand-up novice, cries of 'first time!' reverberated around the room – a really nice touch of support, like an initiation ritual. He seemed very confident for a stand-up virgin, but newcomers ought to stop comparing comedy to sex as almost everyone does. But this Daniel escaped the Lion's Den unscathed.
Richard Wright is another of the acts who seemed to place expressing his self-pity – 31, overweight, balding, living with parents, geek – above getting laughs. There are a few sprouts of ideas, and he has a more affable demeanour than his own description suggests, but its underpowered.
Ceasar Alkasab could do with tightening his set a lot more – and losing cheesy lines such as the one about his 'Auntie Semite' and easy observations based on his racial background… although the idea of him being the only Muslim in a Catholic school is rich with comic potential. Brett Sharpe has more than shades of Paul Foot in taking an absurd idea and running with it – and although he could be very funny, it is derivative – and without the experience of knowing when to stop, he eventually drove the set into the ground.
For doing the insane well, you need look no further than the unforgettable Candy Gigi, pictured who starts sensibly enough before going off the rails, contorting her malleable, simian mouth into emitting a long, primal yell as she smears her face with lipstick and more. Her intensity, commitment and full-on originality make for an experience of hilarious, raw insanity that's rarely matched.
Mark Silcox hit the Chortle headlines recently for announcing his intention to ban female audience members from his Edinburgh show, though he started here by praising a woman, the comedian Sunna Jarman who died last year. Heartfelt, but from a comedy point of view a rather confusing start to a set that seemed ill-thought-through. There were smatterings of laughter in the gaps as the audience pondered 'Was that it? Was that comedy?' but it wasn't his finest five minutes. Silcox did, however, sum up the night perfectly by describing it as 'Edinburgh in London' – or the fringes of the Fringe gathered in one place at last.
The relatively experience Mark Restuccia, returning to stand-up after a couple of months off, mixed disjointed twitter-level puns, often poor, with longer routines, such as a nicely entraining monologue of a stag party, which isn't about the usual cliches. Australian Aaron Meszaros has the gift of the gab, but terrible material, with impressions of Christopher Walken, Schwarzenegger and Sylvester Stallone thrown in like its 1986 at Hacky McHack's Comedy Shack.
And finally, Zak Splijt donned dark glasses and a booming American accent – in these ways similar to Scottish act the Rev Obadiah Steppenwolfe III – to holler at the audience about the night just experienced under the rabble-rousing alter-ego LJ Da Fun. You wouldn't say he was focussed or had great jokes, but he encapsulated the hit-and-miss, anything-goes spirit of the night more than anyone – and he relished every minute of it, an infectiously enjoyable quality.
Review date: 14 Jan 2015
Reviewed by: Steve Bennett
Recent Reviews
What do you think?