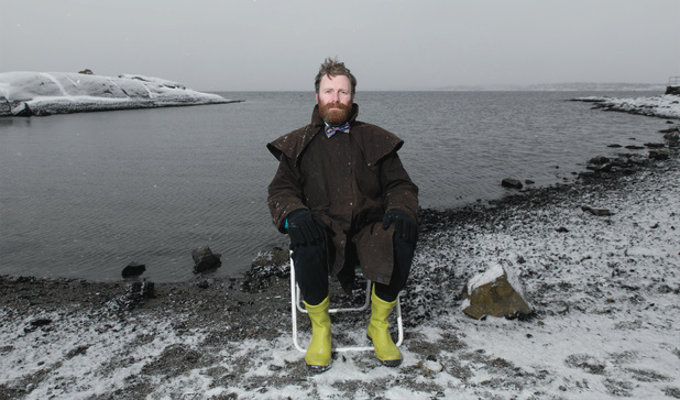 Kraken at Soho Theatre
Note: This review is from 2015
Former Edinburgh award-winner Dr Brown seems to have reopened the door for physical comedy, though which Trygve Wakenshaw, a fellow graduate of the Gaulier School, has gaily skipped.
Obligatory comparisons aside, the visiting New Zealander has his own take on the child-like naivety of the clown persona. His alter-ego is like the toddler discovering the humour in his own bodily excretions for the first time. There is still an innocence, combined with the compelling desire to be the centre of attention – which he knows naughtiness will achieve.
Probably the most memorable sketch in Kraken, which contains many moments of silly joy, is when Wakenshaw becomes both a hatchling whose delight at seeing his mother turns to slowly-dawning horror as he realise just how he is to be fed. Like every movement in the show – now at the Soho Theatre for the London International Mime Festival – the physicality and timing is faultless as the pipecleaner-limbed performer demonstrating a millimetre-perfect control of his malleable body.
In the spirit of goofy playfulness he dares audience members to become involved, whether in indulging in his cheeky demands for physical contact or simply playing a spirited game of chase around the auditorium… causing a heart-stopping tumble for the enthusiastic participant tonight.
Save for a minor example, Wakenshaw is not about cajoling the crowd out of their comfort zone, but rather about sheer entertainment. This is a series of silly sketches – from the artistic opening gambit to becoming a baby elephant to mimicking a beatbox and loop machine, which is quite a tall order for a mime… even one like him who occasionally breaks the vow of silence, thanks to the ever-present imperative to be a bit naughty.
There's no greater meaning to all this beyond unlocking the playful spirit of childhood, but the perfectly-executed nonsense is full of hilarious moments that rightly put Wakenshaw on the comedy map.
Review date: 9 Jan 2015
Reviewed by: Steve Bennett
Reviewed at: Soho Theatre
Recent Reviews
What do you think?