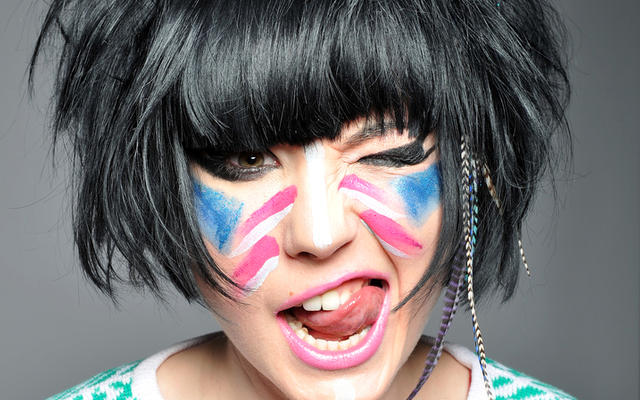 Bec Hill in… Ellipsis
Note: This review is from 2015
In November, Bec Hill won a plastic loo seat for having the best toilet joke: 'For Christmas last year I got given Sudoku toilet paper. It's useless. You can only fill it in with number ones and number twos.'
Not a bad joke; but not a great award. In Ellipsis (the technical word for the … punctuation) the winsome Australian ponders why she has never won a real accolade, despite what she drunkenly told Superman star Dean Cain in the bar of the Soho Theatre.
Back in the same venue – but in a performance space this time – she muses on why that might be. Is it because she can't do righteous anger very well, not least because she doesn't really swear? Is it because she can't do observational comedy, being averse to the generalisations that entails? Is it because she doesn't do deeply personal soul-baring comedy, even though she knows the tricks of stagecraft to pull it off?
If this sounds like she's writing her own criticism – well yes, to a large extent, she is. A lot of the show is telling us what she isn't, but there's less about what she is, beyond a chipper, eminently likeable ingenue with a creative, crafty streak.
That applies primarily to the glorious low-tech animations she has created on her artists' pads, taking the elements of pop-up books to imaginative new levels. More inventiveness comes with the way she gives voice to her insecurities. As voiced by Phil Nichol, her self-doubt nags her via a primitive phone, with Beck's Loser as its apt ringtone.
Perhaps it's no wonder, too, that she likes puns, manipulating meanings in the same way as she manipulates the paper, though the results are more mixed, with quite a few Christmas-cracker-like punchlines you can figure out for yourself alongside the more creative examples of the form.
Into this selection box of assorted talents, we can also add some storytelling skills and an effective display of in-vogue physical comedy in the preamble to the show. In monologue she initially seems a little stiff, but loosens up as she hits her stride, striking a eternally joyful and uncynical note, even when she attempts the 'pissed-off' comic bit by spinning her wheel of minor irritants. For her lack of rage and passion she is always apologetic, in a tongue-in-cheek way.
The material is less consistent and beyond the ingenious prop gags, the stand-up sections fall short of being memorable – though a little Jesus trivia from lesser-read parts of the Bible is a delightful exception. Her congeniality and effusiveness nonetheless bind the individual components into a charming, feelgood hour.
Review date: 7 Jan 2015
Reviewed by: Steve Bennett
Recent Reviews
What do you think?