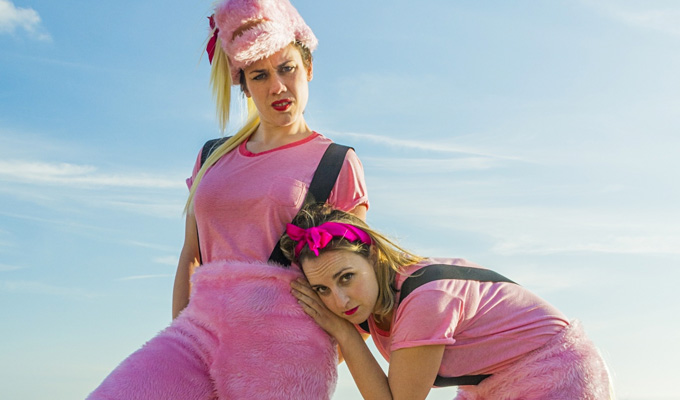 Snow Pony
Note: This review is from 2014
It's full of surreal non-sequiturs, but Snow Pony suffers from a lack of cohesion that makes it any more than an indulgence. There's little sense that Letty Butler and Lucy Pearman have created a consistent world, however strange, while the plot is little more than a series of weird-for-its-own-sake incidents that don't sustain the attention.
The pair, collectively called LetLuce, have some physical comedy skills and a lot of winsome charm, but they are a little too smug about how amusing they think their absurdity is. 'Mildly' is the real answer.
A seasonal remix of their Edinburgh offering Show Pony, the fragile story concerns a pink pantomime horse called Eamonn, who is variously punched in the face by a couple of stereotypical Irish nuns, battles a giant baby and joins a circus run by Ian McShane. Don't look for any of this to make much sense, it feels like a couple of pals mucking about with enthusiasm but little purpose. The partisan audience didn't help dispel the notion this was a massive in-joke, either. 
Some of the dialogue is almost a parody of bad surrealism: 'Sophie Ellis Bextor has tripped on a quail!' or ' I spin on a kumquat' but it's actually done in earnest. Wittier moments come from the more knowing exchanges between the two halves of the whole, acknowledging the oddness of their two-in-one existence, not just whatever extremely nutty situation Butler and Pearman imagined.
There's a bit of audience participation, too, but seeing this the night after the master of the art, Adam Riches, it all seemed pretty perfunctory. And the lo-fi aesthetic often winds up just too loose to work.
The pair obviously have ambitions to be the next Mighty Boosh or Vic and Bob; but if so they would be best to learn how these successful absurdists create credible alternate realities then fashion workable plots within them. It takes more than just random brain-droppings.
Review date: 12 Dec 2014
Reviewed by: Steve Bennett
Reviewed at: Hen and Chickens
Recent Reviews
What do you think?