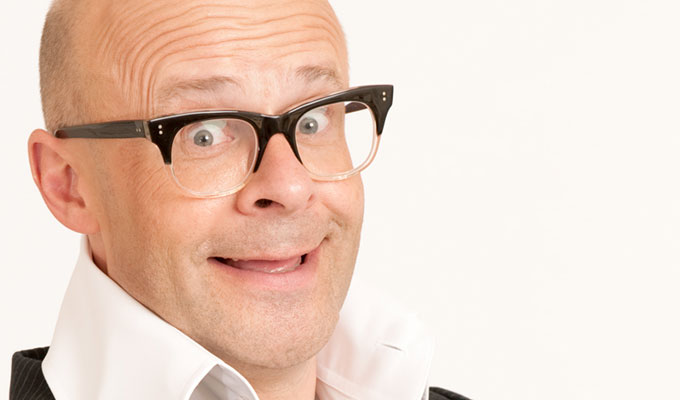 Harry Hill: Sausage Time
Note: This review is from 2014
Since walking away from TV Burp in 2012, Harry Hill has suffered a couple of high-profile flops in the form of his widely derided movie and I Can't Sing!, the X Factor musical which closed after six weeks. But put him on a stage with a showband and a generous prop budget and he's in a league of his own.
Sausage Time is a triumphant return to what he does best: the broad, vigorous silliness that remains surprisingly rare in stand-up. He might have paved the way for the likes of Noel Fielding, Matt Lucas and Nick Helm – and he stands on the shoulders of music hall giants himself – but there's something uniquely joyous in his blent of mischief, surrealism and unadulterated showmanship.
Pushing 50, but still full of the youthful zeal and commitment of a comic half his age. His sheer dedication to the performance is what carries the show, even when he's mocking himself for doing so. The comic desperation behind the 'show-must-go-on' mentality is hilariously realised as he persists with a ventriloquist act with his 'son' Gary as it falls apart around him, or doggedly ploughs through a long scenario about a coffee cup, desperately clinging to a fast-drifting accent.
Hill offers slapstick at its very best, with an instinctive command of just how far to push things, and where the subtlest or broadest of gestures will get a laugh. The challenge he sets himself to down a bucket of water is a masterclass of physical comedy.
Plenty of this is silly for its own sake – I give you the 'Tongan' version On Ilkla Moor Baht 'At as Exhibit A –  but he also packs in genuine gags, hitting the ground running with a density of quirky, one-liners to set the tone.
And by the end, the stage has been battered by a maelstrom of lunacy, non-sequiturs and over-the-top set pieces involving an equally bonkers supporting cast, all celebrating stupid-for-stupid's sake. In a world of Everyman comics, how refreshing to witness someone willing to grasp so firmly at the baguette of silliness… and fashion it into a punning prop gag.
Review date: 26 Nov 2014
Reviewed by: Steve Bennett
Recent Reviews
What do you think?