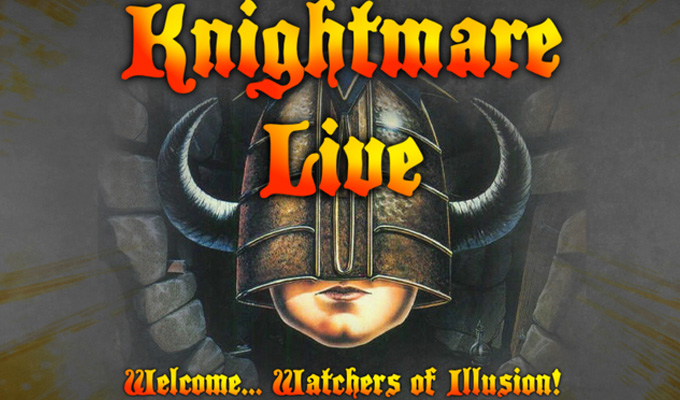 Knightmare Live: Level 2
Note: This review is from 2014
A powerful thing, nostalgia. For a certain generation of thirtysomethings, childhood adventure TV show Knightmare still exerts a strong emotional pull, 20 years after its last quest. Certainly enough for a tongue-in-cheek revival to do decent box office in a West End theatre of a Monday night.
And the long, deafening cheer that greeted the big coup of this tour-ending performance – a surprise appearance from Hugo Myatt who played original dungeon master Treguard – easily matched what Python could muster in the O2.
For those who don't recall the original, the appeal might be baffling – and this show's in-jokes even more so. The air was that pre-teens had to guide their teammate, blindfolded by a 'helmet of justice' through a series of rooms full of primitive computer graphics and over-complicated challenges. Few ever made it.
Today it's grown-ups– this time stand-up Jim Campbell and his Football Ramble podcast colleague Marcus Speller, calling the shots for a punter, Matt. The Commodore 64 graphics are gone, replaced with mostly cheap props and set – the exception being a couple of artfully realised puppets.
Every shortcoming of the original is mocked with stock lines becoming cheesy catchphases and the cheap productions values and preposterous set-ups all becoming running gags. But it's clearly very affectionate, and the audience united in celebrating the flaws. There's certainly a pantomime feel, booing the evil Lord Fear, as villainously camped up by Tom Bell, and cheering on our heroes, aided by the new Treguard – and creative director of this effort –  Paul Flannery .
The pair trade insults and banter, sometimes brilliantly, sometimes self-indulgently, especially with the 'school's out' feel of the last night of the tour. But indulgence is the name of the game here,and the staunch audience are in on every second, even contributing some witty interjections (and a couple of annoying ones) of their own.
It certainly helps if you remember the original ('it's not entry-level stuff', we are warned from the beginning) but even if not, the good nature is infectious – even though the underlying 'plot' – which manages to be both paper-thin and needlessly contrived isn't worth investing in. This, and the samey games, become something of a stretch over nearly two hours.
Yet with comedians Matthew Highton, Paul Duncan McGarrity and Jessica Fostekew providing the supporting cast of goblins and other mythical creatures – the latter especially good at making Pickle the moronic elf uniquely annoying – a sense of knockabout fun is never far away.
And as if in extra tribute to the cheapness, tonight's radio mics are appalling, cutting in and out to the point it was a detriment, not just an occasional glitch.
Yet even with such technical setbacks, the target audience, sometimes intimidatingly devoted, emerged from this plywood dungeon delighted with a show that deftly trod the line between homage and parody.
Review date: 4 Nov 2014
Reviewed by: Steve Bennett
Recent Reviews
What do you think?