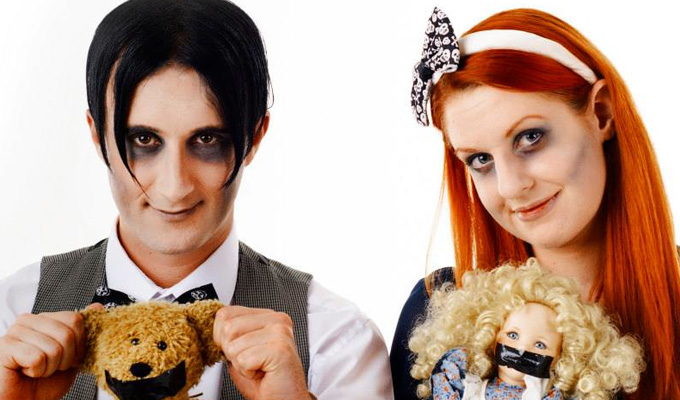 Twins Macabre: Small Mediums At Large
Note: This review is from 2014
'Going dark' in comedy is easy to do, but hard to master. Depict yourself as monstrously evil and an act of gruesome violence will always fill the space of a punchline: '…and so I stabbed him.' But to do it well, to create the requisite suspense and surprise, is a taller order – and a peak that the Twins Macabre only sporadically climb.
In the guise of dead-eyed child psychics Maurice and Ivy Macabre, the duo have created a suitably spooky Gothic vibe. She twisted, manipulative and vicious – part America McGee's Alice, part Wednesday Addams – he a slow-witted, murderous dolt; both orphaned when their circus performer parents died in a fiery 'accident'. They look – and more importantly – act the part, with committed performances of detached psychosis.
To expand the show, the Twins Macabre have the power to summon up spirits of the dead, offering the chance for sketches marginally outside of their main personas, which sit alongside flashbacks into their murky past and the playing out of the current hostage situation, the audience captives in their torture-nursery.
But in this Fringe show – revived in London for a couple of Halloween specials – often feels underpowered in the writing. Those violent get-outs are too easy to a get-out and certainly always strike the exact-same chord. Actual gags can be weak, too. Their mocking of stage psychics is blunt and tired (especially compared to Ian D Montford's genuine talents) while they even seek (and admittedly get) a laugh from a binman inflating himself as a 'refuse collection operative'.
However some of the standalone sketches, and especially songs, do shine. Highlights include the 1940s variety-hall number put a chipper sheen on wartime horrors, a witty take on a nursery rhyme, and the upbeat musical number Shady Oaks which barely conceals its sinister undercurrent. The trick here is that the brutality is underplayed, rather than being so obvious. And in other scenes, the slow revelation of the Twins back story is promising.
Nic Lamond and Adam Rhys-Davies's performances are as strong as they are baleful, and certainly amplify the amoral entertainment with their conviction and attention to detail. With a stronger, more nuanced, script they could properly harness their dark powers. But at the moment it's probably more style than substance in their bid to be the next League Of Gentlemen.
Review date: 31 Oct 2014
Reviewed by: Steve Bennett
Reviewed at: Etcetera Theatre
Recent Reviews
What do you think?