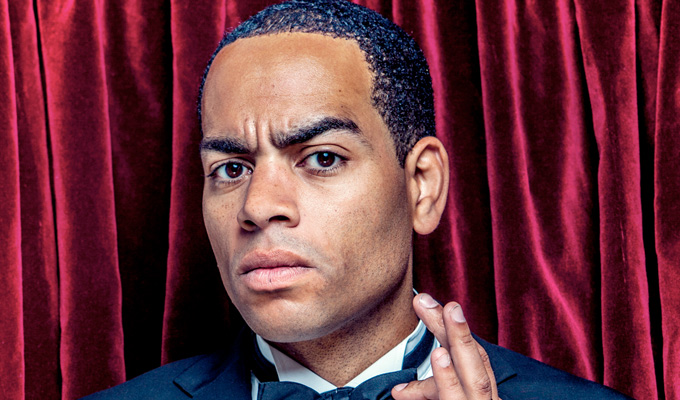 Doc Brown: The Weird Way Round
Note: This review is from 2014
Doc Brown made his name as a rapper, and is still playing their venues, filing London's 1,200 capacity Forum to all but the highest circle – quite some achievement. However rap is all-but exorcised from his main stand-up set now, save for a couple of minor interludes that he performs without backing beats.
Yet even without the rhymes, he still maintains both the stage presence and the emphatic cadences of his old job. He is a man who can certainly hold an audience, almost no matter what he is saying.
While a fine talent, that does not always encourage an efficiency of writing, and there are some routines here where he's cruising on charisma or over-indulgent in the set-ups. He starts in the relatively mundane, with an encounter with feral London youth, and towards the end he encroaches on the preachy. Yet in the sweet spot in the middle, he adeptly combines having something to say with a funny and compelling way of saying it.
Playing a hometown crowd, he bigs up his roots as a real Londoner, not an immigrant from elsewhere in the UK who make the place more 'wankery' than it needs be. Similarly, while he's a coward and a nerd in the capital, he's gangsta for the Cotswolds, the subject of one of those rare rhymes.
This is broad, but that doesn't mean easy. The comic staple of getting a medical check-up shines because of the vividness of his description, though the subsequent discussion of haemorrhoids medication alls into a more familiar pattern.
Brown – real name Ben Smith – frequently delivers material of substance, though - from an early broadside against bad parents to the insight he's got about show business thanks to his burgeoning acting career. He was the second ethnic in Midsomer Murders, don'tcha know?
His take on the industry's hang-ups about black actors is inspired - and opens the gateway to his most socially astute section, belatedly at 37 identifying himself as a feminist (for the sake of his two young daughters more than anything) and offering an incisive commentary on the seedy Jennifer Lawrence photo-hacking scandal.
He runs out of funny just before he runs out of philosophising, though, and there's a feeling that a show which runs to just over 90 minutes might benefit from begin closer to 70. Nonetheless he brings things around with a routine about explaining mortality to his child that's playfully bleak, though not as masterful as Louis CK's signature bit on a similar theme.
There's a clumsy,awkward start to the encore, which Brown himself has to encourage amid people filing for the door. But it was worth staying to see him revisit some of his greatest comedy-rap hits such as Everybody's Racist and My Proper Tea, which delivers what this sizeable crowd wants.
As a straight stand-up, Brown still seems to be working towards a goal, and with so many other successful distractions from Law & Order to Strange Hill High to Derek to occupy him, he hasn't, perhaps, the stage time to get the routines as gig-honed as he could be. But his rhetorical powers are strong, his mind keen and his stage presence absorbing.
Credit, too, to support act Sean McLoughlin, playing surely his biggest gig to date. Last week, he tells us, he was gigging in the basement of a kebab house. His abject, impoverished loser shtick won over a crowd who came not to see him, thanks to some impressive comic turns of phrase. Good gigs like this are a bold step on the road to success… if only that wouldn't scupper his near-destitute persona and 90 per cent of his sharp material.
Review date: 10 Oct 2014
Reviewed by: Steve Bennett
Reviewed at: The Forum
Recent Reviews
What do you think?