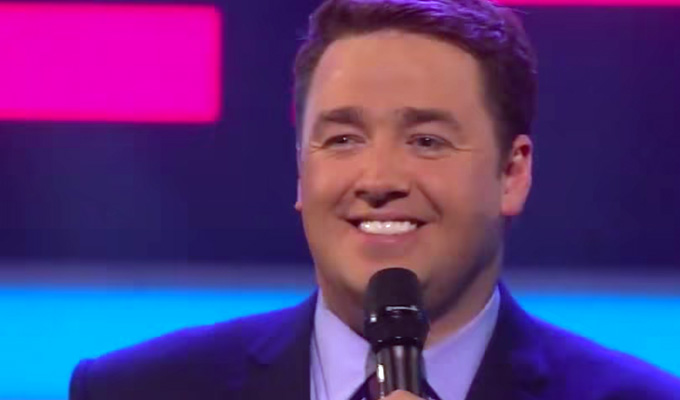 Sunday Night At The Palladium with Jason Manford
Note: This review is from 2014
'The home of variety is back!' enthused Jason Manford, hosting the second Sunday Night At The Palladium last night – as ITV continues its bold commissioning strategy of throwing a dart at back editions of the Radio Times.
Manford's certainly cut from the same showbiz cloth as previous hosts – certainly more so than unexciting episode one presenter Stephen Mulhern. Our host even channeled Brucie at one point, telling Henry, the magician who just happened to be sitting in the front row: 'I'm in charge' (though he did add '...of this show').
Manford also said the hosts were encouraged to share their secret talents – and although he hardly keeps his great singing voice under a bushel, here he crooned his way through Fly Me To The Moon, 'my nana's favourite song', in keeping with the old-school vibe of the show.
Elsewhere his banter was affable and funny – though even he couldn't save the cheesy Top Of The Bill game, with such demanding questions as 'Complete the name of this double act: 'Ant and...'
Of the comics, Hal Cruttenden offered his skilful brand of mainstream observations, as ever, without sacrificing originality or attitude, acutely aware of his middle-class campness. He spoke of wartime memories, attitudes to the overweight and terrible TV – 'not this,' he asserts, perhaps a little too quickly, but Jeremy Kyle.
And keeping the variety flame alive was Prince Harry's favourite, Nina Conti, and her Edinburgh gran in puppet form, allegedly channelling her late husband through a willing audience volunteer in an entertainingly silly display of 'mind-reading'.
Funny stuff; but pretty safe bookings too. For example, Cruttenden's twice been on The Royal Variety Performance – of which this felt like a copy but with the sense of occasion removed. Likewise Earth, Wind and Fire might have seemed like an interesting booking, had they not been everywhere in the last couple of weeks on the back of their Proms appearance.
In the 1950s and 1960s, back when London was in the title, this used to be the biggest show on telly. But it's hard to see the new incarnation catching quite the same imagination unless it can find bigger stars or more distinctive acts, especially now it's no longer live.
The musical acts – also including Ella Henderson and Maroon 5 – shows up another problem, as their theatre performances falls unhappily between big gigs such as Glastonbury and the credibility and intimacy of Later With Jools Holland.
It's all perfectly fine... but 'fine' is something of a comedown for what was, in its heyday, the must-see show of the week.
Review date: 22 Sep 2014
Reviewed by: Steve Bennett
Recent Reviews
What do you think?