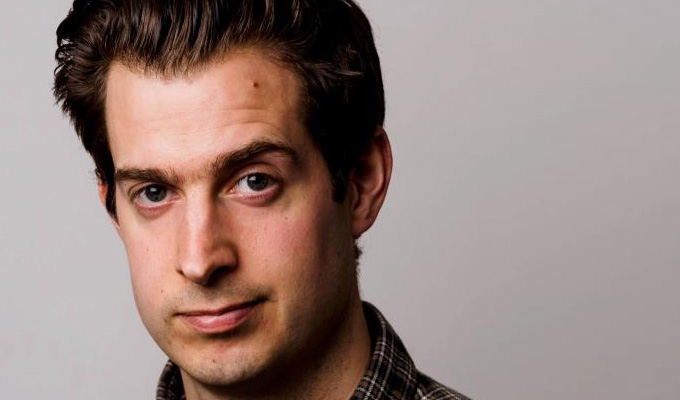 Comedy Knights Fresh Comedian Of 2014
Note: This review is from 2014
Sometimes it seems as if every new act night runs its own competition. Whatever misgivings about stand-up not begin a competitive sport, they do give a focus to small clubs – and a leg-up to those fledgling comics who have what it takes to emerge from the ever-increasing pack.
London's Comedy Knights is no exception, and its new talent hunt culminated in this final a last night, featuring 12 chosen from the original pool of 160. Let's joust…
First up is Australian Don Tran, as dry as the Outback and delivering his well-polished one-liners while rooted to the spot, very much in the Stephen Wright school of both stagecraft and content. He's got a few exquisitely offbeat ideas, and not too many duds, but the personality-free approach makes it difficult to build up momentum over five short minutes. But there are lines here plenty of comics would kill for.
A veteran of these sort of finals, Alasdair Beckett-King now has a polished, tight and funny set to rise to the occasion. Sure, the gags might be based on traditional staples: what he looks like, veganism, being ginger, and being harassed by kids in the street, but he develops them in appealing and – mostly – distinctive ways. He was unlucky to miss out on a place on the winners' podium tonight.
Next up Nick Helm. No, not really, but it felt like it. Matt Smith has simply stolen his opening gambits, asking the audience in growling tones if they like jokes then exaggeratedly ker-powing his ensuing punchline. He eventually settles into his own style but this is such a carbon copy it's hard to get past that initial impression. The bulk of his set revolved around an ill-researched book about Afghan Hounds, of all things, which he's surely exaggerated for comic effect – but the repetition doesn't really bear fruit.
Canada's Farrell MacKenzie was slick and dynamic, but unconvincing. As he leapt around the stage miming out his apoplectic anger at being asked to come up with an increasingly complex website password, it felt forced and false – a learned way of doing stand-up rather than from the heart. He's not unfunny, and the energy is welcome, but the way he uses it is a turn-off.
It's a similar criticism for Dom Lister, who was further hampered because the affected style he was rather mechanically mimicking seemed to be based on Joel Dommett – who just happened to be hosting tonight. The gulf was pronounced. And if Lister's going to make jokes about the difficulties of being another middle-class, white male comic he ought to offer more of a reason to stand out from the fray. His extended bit about odd Rotten Tomatoes reviews – written rather than just repeated, I believe – was moderately funny but not really enough.
American Alexis Wieroniey offered nothing beyond cliche in her transatlantic comparisons, and came off rather patronising in the way she told us Brits what we're like, with our self-deprecation, grey weather and lack of enthusiasm. But look how she mocks herself – she says Lie-chester Square! Her set limped along to near-silence, understandably given it offered so little.
In complete contrast, Dave Green presented a quirky, witty set. His deadpan manner was something of an obstacle for the audience to overcome – his opening gambit got nothing, even though it was a great line – but he won them over with distinctive writing evoking some very funny imagery. He's not of the level yet, but he could well be a contender to follow in the footsteps of the likes of Milton Jones, given his imaginative approach to writing. He was crowned winner on the night, and deservedly so.
While Green had great writing but a meek persona, Joe Sutherland was the opposite. Dressed in a natty black suit that sets him in a higher status from the rest of the line-up, his arch, fey personality demands attention. Yes, the material may need sharpening but he is such a strong presence that he exudes a star quality, and on his own terms. That said, he does have some decent gags - and his sneering jokes denigrating books are a special guilty delight. Definitely one to watch, with a runners-up slot tonight that should hopefully offer encouragement.
Dan Green has a quite confidence that shows he's in control as he indulged in some audience interaction in which he demonstrated the hierarchy of handshakes. It's not a set of any great substance, even though his interaction skills are good.
And he scuppered some of Jacob Hawley's set, too, since his material on handshakes was – as he acknowledged – now a little redundant. His routine was messy, a triumph of enthusiasm over discipline, but contained some nice moments, especially mocking Russell Brand's heartfelt but ill-thought-through calls for revolution. And a section about porn, though well-meant, came across more laddish than I think he intended. Still, he has a nice presence and will hopefully find a way to focus his skittish energy.
With a delivery style emulating David Mitchell, Philip Simon was the second major dud of the night, starting with an old joke and never quite getting beyond the familiar – telling of picking up romantic flowers from a roadside shrine, one of several examples of old ideas. 'My mind works in weird ways,' he says. Could have fooled us. And after he failed to engage the room with a cheap and contrived Oscar Pistorius joke, he started waffling aimlessly.
Smooth-voiced Welshman Daryl Perry, on the other hand, was another strong contender, ironically and frequently boasting of his alleged sex appeal and cool credentials. Mild-mannered and self-mocking, he offers some enjoyable, offbeat ideas in his entertaining set, such as extolling the benefits of exfoliation, and cuts quite the distinctive personality. Another act who should have a promising future in comedy.
Review date: 18 Sep 2014
Reviewed by: Steve Bennett
Reviewed at: Forge & Foundry
Recent Reviews
What do you think?