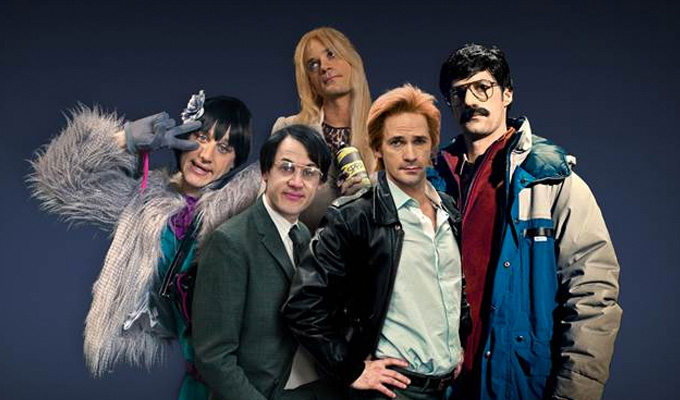 Caridnal Burns 2014 tour
Note: This review is from 2014
They area a bona fide cult hit, yet as they take their successful Channel 4 show on tour, Cardinal Burns have taken strides to ensure they don't simply deliver a greatest hits package fans can mouth along to. (Although one vociferous woman at the Soho Theatre tonight is annoyingly keen to join in with familiar punchlines).
So a couple of favourites are missing – The Office Flirt and Bansky most notably, perhaps – but there's new work, too, starting with the silly, over-the-top opener in which Seb Cardinal and Dustin Demri-Burns perform a particularly hot and sweaty version of R Kelly's Bump and Grind that must leave them uncomfortable for the rest of the first half. It certainly shows commitment to a gag.
As it happens, Cardinal Burns suit the stage easily as much as they suit the screen. Never ones to follow the quick 'get in, get the laugh, get out' pace of most contemporary sketch shows, their longer-form skits take on a suitably theatrical feel when performed live.
They relish the subtle nuances of suburban mundanities, and allow such characters time to germinate, getting laughs from as little as a slightly odd cadence. Treating a corporate wage slave like a celebrity, asked to describe his time at Foot Locker with the earnestness and melodrama of an actor is a joy. So too are their mildly camp couple, Roger and Howard, nervously describing their first encounter at the buffet table of an East Sussex conference hall, a skilful portrait of dullness that's far more entertaining than the subject.
Messrs Carinal and Burns also call to mind Peter Cook and Dudley Moore – high praise indeed – as their alter-egos Phil and Terry, the Cockney cab controllers as they describe in unexcited, everyday turns an encounter with the Queen who, in an absurd conversation rich with telltale detail, turned out to be far more common than you might hope.
They wouldn't be forgiven for excluding their explicitly surreal audition sketch for a Fiery Hawk energy drink, surely born from two acting careers' worth of indecisive client instruction. Another must-have are the showstopping Turkish cab drivers, Hashtag and Bukake, resplendent in mullets and elegiacally singing the praises of their hatchback and TomTom. Both are stand-outs back from the Edinburgh shows that first brought them to prominence, revived with a wider familiarity thanks to telly.
Ultra-earnest and politically naive Trustafarian poet Switch, replete with histrionic delivery, makes an appearance, too, as does the similarly posh Made-in-Chesea-like pop star Rachel – from CB's spoof reality show Young Dreams – with her giggling Japanese gofer Yumi. And while the sketch says something about the yuppification of the once working-class preserve of pop music – the extent of her angst comes from being denied entry to an exclusive private members' club – the duo are given an easy ride by an appreciative audience here. Their comedy tends to be better when they have to work a little more for their laughs.
Their characters feel genuine, and even when they they are of a well-documented archetype, such as their banter-merchants seeking a night out in Tiger Tiger, this duo bring something new to the party. Though the unironic glee in which some in the audience greet the Gangham Style celebrations of an allegedly legendary bit of bantz suggests they might be from the demographic being teased here.
In other place it's less obvious where the gag lies, such as the Scottish duo delivering an unspecified telling-off to team audience, but the wit shines through the performance.
Eddie Izzard would surely approve of the sketches performed in French – both their fathers are from across the Channel – although you don't need any sort of fluency to understand the nonsense of it. And the skit treating the pomme de terre as if a high-end luxury item is one of many, many classy delights in a impressive, varied and well-executed show that dares to be different.
Review date: 15 Sep 2014
Reviewed by: Steve Bennett
Recent Reviews
What do you think?