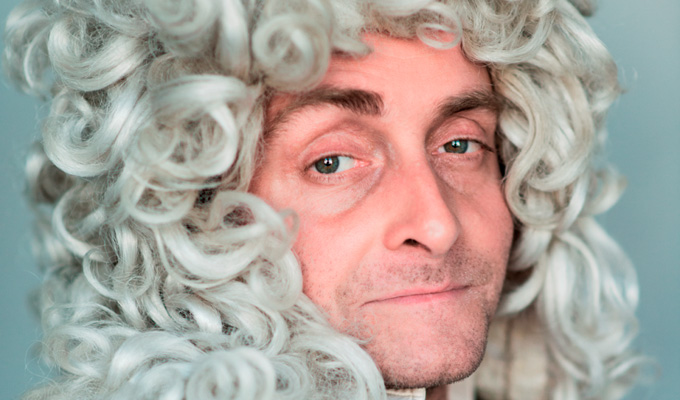 Tim Fitzhigham: Hellfire
Note: This review is from 2014
Difficult to judge as a pure comedy show, Tim FitzHigham's Hellfire is an engrossing romp through some of the murkier, sinister aspects of the upper echelons of society, from the 18th Century to today. He's an ebullient guide through this fascinating alternative history, full of passion and insatiable inquisitiveness, though if you want 'joke jokes', you need to look elsewhere.
Hellfire Clubs were first founded in the age of Enlightenment, considered a debauched, pseudo-satanical clandestine society where political and aristocratic bigwigs could convene for their depraved, nefarious activities. But with global links across politics and early banking, Fitzhigham posits that they had a far greater influence on society, with links to the Freemasons and the Illuminati.
This could get into David Icke conspiracy theory territory, but thankfully Fitzhigham – he who has made a career of outrageous, foolhardy stunts – actually remains pretty grounded here; raising tantalising possibilities without evoking our shape-shifting lizard masters.
It's clear he's done a phenomenal amount of research here; even establishing links for the first time between the clubs and the likes of Marquis De Sade, baking founder Mayer Amschel Rotshchild and Benjamin Franklin. And the lynchpin of the whole shady set-up was Sir Francis Dashwood, Postmaster General when that term meant Spymaster General. The book Fitzhigham must surely write on this enthralling subject will be a page-turner, and provide the footnotes you wish this show possessed.
Fitzhigham's quest was instigated after a mysterious, coded letter, possibly alluding to one of the gentlemen's wagers that were a feature of such clubs at the time – and which have featured prominently in his previous Edinburgh productions and Radio 4 show.
Of course the ever-adventurous Fitzhigham had to try to replicate the challenge, to achieve a speed of 25mph over water using technology only available at the time, blasé to the fact that the original was called off after a servant perished.
Comedy comes from the exploits towards this endeavour which bookend the show; as well as some of the taller tales and more outrageous exploits members of the Hellfire Club would get up to. The Bullingdon has nothing on them. But the main attraction is Fitzhigham's puppyish enthusiasm and the peculiar and fascinating subject that has inspired him.
Review date: 24 Aug 2014
Reviewed by: Steve Bennett
Reviewed at: Pleasance Dome
Recent Reviews
What do you think?