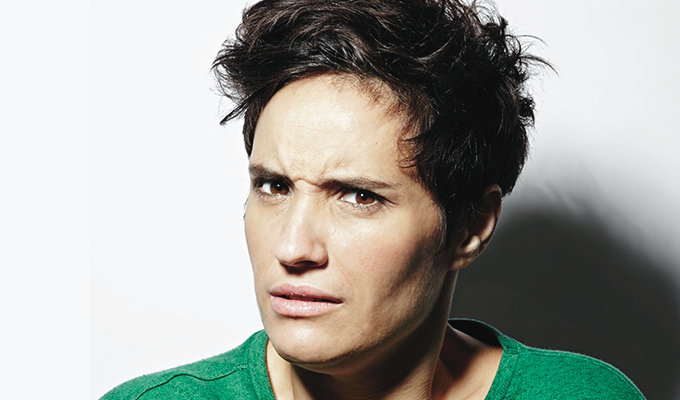 Jen Brister: Wishful Thinking
Note: This review is from 2014
Growing up a half-Spanish lesbian in Norfolk was defiance itself ventures Jen Brister, so she needn't feel too guilty about never having performed political comedy.
And yet, on the cusp of turning 40, and after 14 years in stand-up, she's belatedly airing her frustrations, voicing her anger at the Coalition government.
As ever, it's her Spanish mother, a die-hard socialist, rather than her neo-liberal English father, who's the main influence upon her, for better and worse.
Authority on a political topic in her family is inversely proportional to how loudly they can shout about it. And with her mother's Spanish speech inflections, Brister brings to life a woman whose conception of feminism is decidedly forthright but seriously at odds with their genetic Mediterranean inheritance.
As a teenager, Brister was politically active. But as so often happens approaching middle-age, life has eroded her capacity to live and let live. The Glastonbury hippies who once inspired her are now denounced as work-shy. And UKIP supporters blaming floods on gay people should have their vote withheld.
Brister's tongue appears only slightly inside her cheek here and there's a depressing, preaching-to-the-converted uniformity about the response this bit gets. Especially when her subsequent routine, imagining concrete rather than metaphorical floodgates overrun with Bulgarians and Romanians, is a rather more inventive attack on the Daily Mail, but overshadowed.
For all her talk, Brister never really drills down into the nitty-gritty of policy, her obsessions with Scandinavia more about their quality television drama than their oil revenue distribution, characterising the British attitude to comparable wealth in a single crude gesture.
So ultimately, her only claims to being a political comic reside in the challenge to po-faced political correctness she sustained in her first regular compering job, in a lesbian bar, where she consistently managed to upset the sisterhood. And over-reacting to a racist in Berlin.
Amusing tales, competently told by a blunt, sardonic performer, this isn't a show about renewed fire in the belly and shouldn't be taken as such. Nevertheless, you can't help but be a little disappointed that's she's essentially just settled for shouting at the television.
Review date: 23 Aug 2014
Reviewed by: Jay Richardson
Reviewed at: Whistlebinkies
Recent Reviews
What do you think?