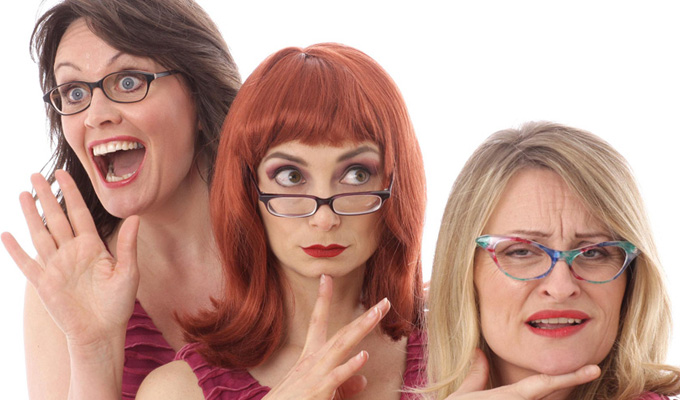 The Nualas: Hello Again, We're The Nualas
Note: This review is from 2014
My word, this is a laugh of a show. The ladies – all named Nuala like all good Irish girls of course - seem to be having so much fun themselves that their ad-libbing takes them ten minutes over time – despite having been out drinking with Jason Byrne the night before, apparently.
It's 13 years since the Nualas performed in town. They originally formed in the mid-Nineties when Anne Gildea, Sue Collins and now ex-Nuala Tara Flynn met at a party in Dublin. In the time since Blonde Nuala (Collins) has got married and had kids, Brunette Nuala (Gildea) has got divorced and Red-haired Nuala has been a few different people since Flynn left, but here she's more than ably given life by Maria Tecce.
The trio take to the stage in full rock 'n' roll style, sporting gold lamé with hot pink frills, then stripping them off in an early costume change to reveal their red sequinned frocks - apparently picked up from Lidl just before the run.
The unplanned and unexpected sections of the show begin early with dark-haired Nuala in a clinch with a fruity latecomer before they've even sung a note. Further in, they are distracted by a man on his iPad – not because he was bored but inspired and needed to write something down. Then an endearingly fluffed line by Blonde Nuala (blaming the after-effects of Jason Byrne's bad influence the night before) leads the women on a giggly and witty diversion.
They're not particularly inventive in their choice of topics but it doesn't matter. The common topics – 50 Shades of Grey, getting older, a holiday romance in Spain - provide a universality, appealing to those that rarely see live comedy and want a simple laugh as well entertaining your jaded comedy critic. It's largely because they perform them with such chutzpah and verve, and deliver the humour with a delightful turn of phrase. The comic timing between them is perfectly realised too, as they bounce off each other. In addition, in appearance they have a pleasingly cartoon quality their thick-rimmed 1960s housewife glasses reminiscent of old pictures of maiden aunts who drink too much at family dos.
On top of all that the songs themselves are brilliantly and beautifully crafted. They can sing the full range from contralto to soprano, harmonise angelically and though the lyrics may be jokey, the chords and melodies are often ethereal and even a touch mournful.
Catch them before they take another too-long break.
Review date: 22 Aug 2014
Reviewed by: Marissa Burgess
Reviewed at: Assembly George Square
Recent Reviews
What do you think?