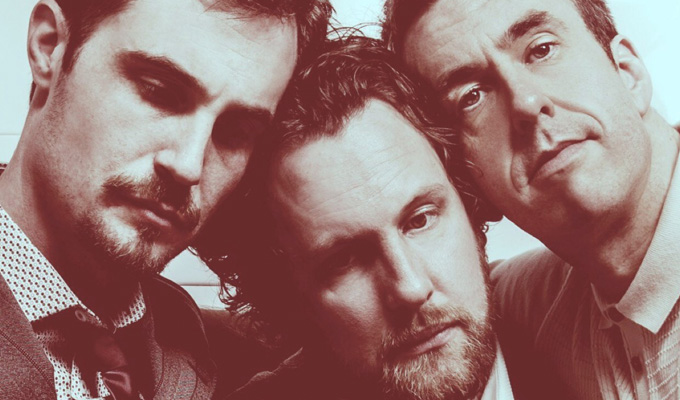 Harvey, Garvey and The Kane
Note: This review is from 2014
The comedy world is probably not crying out for another sketch group of three almost interchangeable well-spoken white guys with solid acting backgrounds – but Harvey, Garvey and The Kane bring a rare inventiveness to the genre that suggests we might be able to squeeze one more in to one of the higher echelons.
While most troupes require a strong sense of identity to stand out, this trio actually make a virtue of the fact that they're are, at least superficially, indistinctive – allowing them to muck about with various styles go the course of the hour; from a curious twist on the doctor's surgery staple, to an peculiar slice of physical comedy set in a job interview, to creating a shlocky, theatrical horror scene in the Blair Witch vein.
Although many of the set-ups will seem familiar, this trio –  Stephen Harvey, ex- of the Perrier nominated double act with Luke Toulson, Marcus Garvey and Gareth Kane – spin them out in directions even the most comedy-savvy won't see coming.
Where so much mediocre sketch comedy seems built on a formula, for example imagining the worst possible person who could be a personal trainer, Harvey, Garvey and The Kane imbue the character with such weird and wonderful quirks – and some delightfully silly lines – that you can't see their workings. It's Pythonesque without the indulgence, with a flick of League Of Gentlemen thrown in for good measure.
A couple of scenes fall short of their own high standard. Do we really need another 'washed-up boyband re-forming 20 years on' sketch? Especially one that plays things atypically safe as this one? And the initial surprise of the encounter between wartime code-breakers at Bletchley Park diminishes as the scene plays out. But even these have their moments.
The presentation is brisk, slick and assured from three versatile actors able to retain a veneer of dignity covering some preposterous behaviour, treated as if it were entirely normal. Some of the regional accents do seem gratuitous, though, more an advert for their versatility for the benefit of any casting agents rather than a significant part of the characters' background. But, why not?, these guys deserve to have very busy work diaries…
Review date: 21 Aug 2014
Reviewed by: Steve Bennett
Reviewed at: Underbelly Bristo Square
Recent Reviews
What do you think?