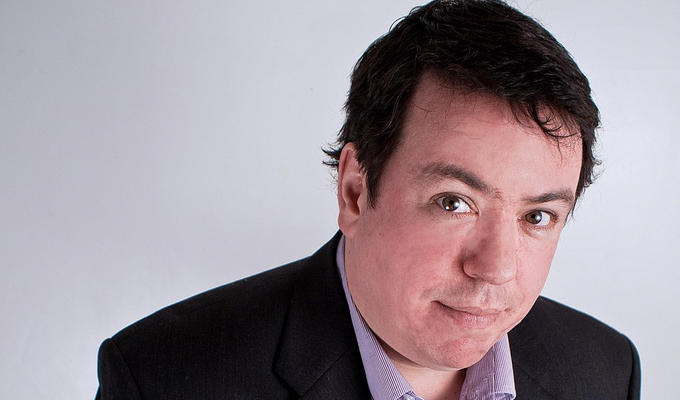 Matt Price: The Maryhill Dinosaur
Note: This review is from 2014
Us critics normally like to sit at the back, in the dark; a situation usually preferred by comedians, too. But the seat left for me in Matt Price's attic box room is right at the front, inches from the bar stool from which he imparts his stories. We're so close our knees almost touch, yet never for a moment does it feel awkward, since Price is as unaffected and as welcoming as they come.
Handing out ice cubes to soothe our brows in this convection oven may seem like a gimmick, but if it's a gimmick that makes everyone more comfortable, then he's on his way to doing his job.
After such friendly moves, Price begins The Maryhill Dinosaur, an anthology of true tales from his life, starting from the fish factory in his native Cornwall where he worked as a youth. He's brilliantly evocative about all the characters there – the 25 stone bloke called 'Salad', for example, or the dimwitted chap whose nickname hasn't weathered the storms of political correctness – and the relentless, often cruel, jokes they used as a way of bonding. Authenticity is key here, and the banter works because you believe the characters he paints.
Likewise with some of the villains he's associated with, in his other job as a ghostwriter of real-crime memoirs. Or the dominatix he once lived with who dragged him, reluctantly, to a fetish fair, where he ended up getting more involved than he would have hoped. A personal theme of not being assertive enough to get himself out of these situations threads through the tales, but lightly. They are all told not through any obvious showiness or theatricality, just a genuine, ordinary guy spinning some yarns, extraordinary in their telling.
The titular character is a mentally ill man called Arthur who lives in that district of Glasgow and thinks he's a dinosaur, whose story comprises the final strand of the show, and one which Price again tells deftly, neither mawkish nor mocking. Every person in his stories are real, and he treats them with the respect they require.
Although this is definitely a storytelling show not stand-up, Price doesn't skimp on the laughs – except, perhaps in some of the more sensitive parts of this last story. And when the laughs do come, they tend to be big, explosive ones, since they burst naturally from these characters, not bolted-on punchlines.
Whether you lack of assertiveness or not, you'll find it hard to say 'no' to Price's unaffected charm.
Review date: 18 Aug 2014
Reviewed by: Steve Bennett
Reviewed at: Laughing Horse @ The Counting House
Recent Reviews
What do you think?