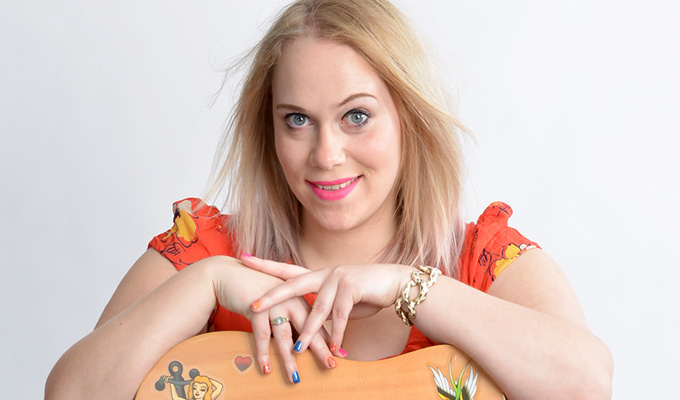 Carly Smallman: Made In Penge
Note: This review is from 2014
Trolling has become something of a running theme in comedy; with many stand-ups reading out the brutal online abuse they receive, and therefore, theoretically at least, owning it… even if it's the power of the vitriol behind the hatred that gets the laughs.
Carly Smallman got more than her share of brutal insults earlier this year, after appearing on the pisspoor ITV2 show Viral Tap. But, with dull predictability, and especially given the channel's unabashed lad demographic, it was not the quality of the show that Smallman was criticised for, but her looks.
If they got to her, it certainly doesn't show. She's upbeat, chatty and happy, super-eager to have fun. If this is a unnatural desperation to be liked, the comedian cliche, Smallman doesn't go into it; the jolliness seems genuine. She has good reason, too, for after a stint at internet dating – including some of the least romantic pulling lines you'll hear – she's found a man and is happy in love.
However that doesn't mean she's going to lay off the filthy songs that she's build her circuit career on, and even the 'welcome to the show' opener manages to rhyme her hometown of Penge with minge. And there's more below-the-belt stuff as she considered what she'll say at her first meeting with the potential in-laws.
Material like this is effective but unexciting comedically, but Smallman defends her right to be filthy in word and deed. Feminism means she can do what she likes with her 'vajayjay' and sing about it too. Whether we want to hear it is another matter…
She tells us she's an opinionated woman who doesn't give a shit – and that applies to her figure too, clearly no follower of Kate Moss's maxim that 'nothing tastes as good as skinny feels'. There's ice cream, for instance.
Luisa Omielan covers very similar territory in her show in the same building – though with a lot more in-your-face sass and deeper honesty – and Smallman can't measure up to that. But there's a jauntiness to the show, and the songs, that's infectious, along with a smattering of good jokes to spice up the good-natured attitude.
Don't let others spoil your happiness is the simple message of the show. Smallman, in contrast, will boost yours. Not a lot, but enough.
Review date: 16 Aug 2014
Reviewed by: Steve Bennett
Reviewed at: Laughing Horse @ The Counting House
Recent Reviews
What do you think?